8 Ups & 2 Downs From AEW Dynamite (Nov 30 - Review)
Downs...
2. A Convoluted Missed Opportunity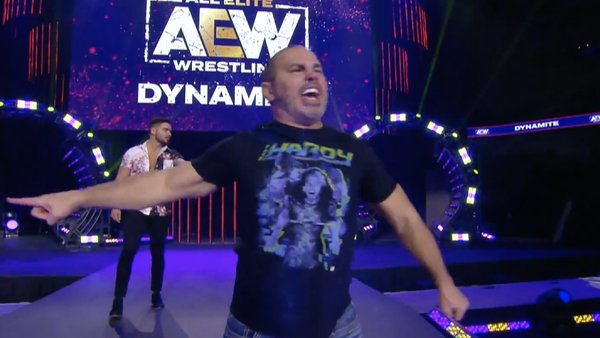 #1 contender fo the World title Ricky Starks is one the of the best promos in AEW, and that is enormous praise given the company standard.
With such a verve and spark to the main event scene elsewhere on this show, perhaps it was a better idea to keep his segment simple and give Starks five minutes to establish his championship credentials and sell the crowd on his winning the match. It was a guaranteed success.
Instead, Starks won a pointless squash against Ari Daivari before which he was confronted by Ethan Page in a bizarre and unfocused scene that spent too long reminding fans of the dog sh*t Matt Hardy indentured servitude story. Khan was clearly in the mood to show off his ability to storyboard and coalesce various plot lines, as will be covered shortly, but if you stain a good story with a sh*t one, the good story will smell like sh*t.
Tony Khan had an opportunity to build the biggest match of Ricky's life here, but instead, coupled with MJF's talk of Bryan Danielson, a Reign of Terror and being a special attraction all but exclusive to PPV, it felt as though Winter Is Coming had already happened, and Ricky was settling old midcard business to end the year on a high note.
The wrinkle of the Dynamite Diamond Ring acting as an instant cash-in device isn't not interesting, but this would all surely be better as a simple story in which the babyface challenges the heel backed by the support of the Texas public who watched him on the ground floor of the game.
Also: is the insinuation here that Starks wants to win the Diamond ring, thereby racking up a second anywhere, anytime title shot, so that in the event he loses at Winter Is Coming he can simply try again?
It's hardly unadulterated all-or-nothing drama or great babyface behaviour, is it?