8 Ups And 6 Downs From Last Night's WWE Raw (Feb 6)
Samoa Joe makes a strong first impression; Jeri-KO spars with Goldberg.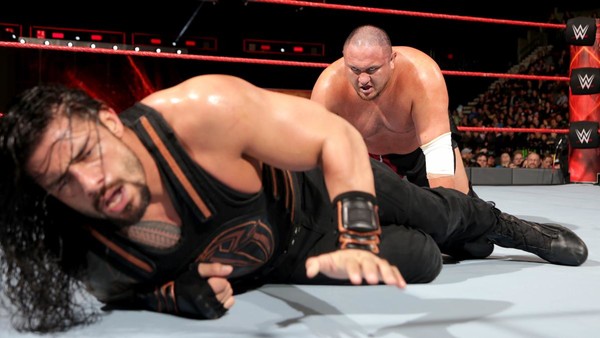 After all the buildup with speculation over whether Seth Rollins would still be able to compete at WrestleMania XXXIII, fans were left with the same questions they had coming into Raw Monday night.
But never fear, WWE still turned in a solid effort, thanks in no small part to the excellent work of two Canadian heroes and American national treasures: Kevin Owens and Chris Jericho. The duo dominated the program with backstage and in-ring segments and a United States Championship match. They helped carry Goldberg to a highly entertaining and effective promo that set up two major PPV matches.
Another big star on Monday night was Samoa Joe, who officially debuted by signing his Raw contract and facing a major player on the Raw roster, Roman Reigns. The Samoan Submission Machine had a really strong match, holding his own and managing to get the win.
However, not everything was sunshine and rainbows. We saw less than stellar tag team and cruiserweight segments, and we saw yet another segment with Stephanie McMahon verbally castrating a male performer, this time Mick Foley. Will she ever get her comeuppance? Don't hold your breath.
With that said, let's find out what rode high and what hit a pothole on the Road to WrestleMania? Let's get to it…