8 Ups And 6 Downs From Last Night's WWE Raw (June 14)
What scaled the ladder and what crashed and burned heading into MITB?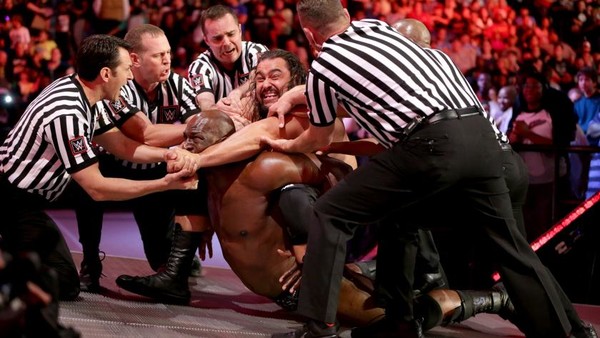 Once in a while, WWE figures out the formula and delivers a solid show that does exactly what its supposed to do: sell fans on the upcoming PPV while putting over stars and advancing storylines. It sounds crazy, sure, but its something that used to happen often.
Monday night, WWE delivered a pretty good go-home episode of Raw to build interest in Money in the Bank this Sunday. While the wrestling wasnt outstanding a couple matches were pretty good, but some felt rushed things moved along at a pretty good pace and seemed to reach a crescendo just in time for the PPV.
Case in point, the MITB ladder match participants have squared off in just about every combination for the past month, so it was only natural that wed see another strange iteration that served as an excuse to get everyone ringside. During a Chris Jericho/Dean Ambrose match, we saw two men on commentary, a guest timekeeper and a guest ring announcer. Boom, instant melee.
So is MITB going to be any good? Given the lineup, as long as everyone has time to perform, fans should be entertained. But whether its good depends on how each match unfolds.
But before that, what scaled the ladder and what crashed and burned? Lets get to it