9 Ups And 6 Downs From WWE Money In The Bank 2021
WWE delivers in first post-Pandemic Era PPV; Big E, Nikki ASH capture briefcases.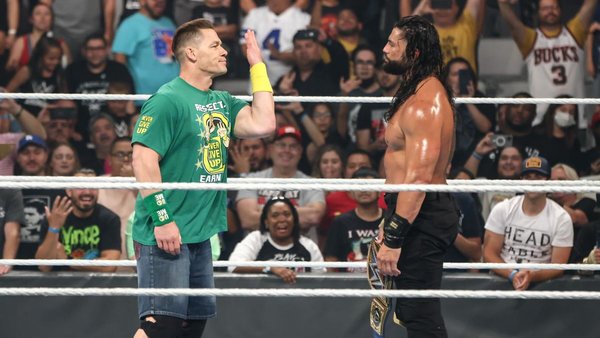 The stars seemed to be aligning for WWE in a pretty positive way heading into Sunday. Money in the Bank often is one of the more intriguing PPVs of the year, with an air of unpredictability with who will win the two briefcases and give themselves a pretty good shot at becoming champion.
This also was just the second PPV with fans back in attendance, and it came at a time when WWE is beginning a build toward a WrestleMania-sized SummerSlam and planning to bring back several big stars.
The result Sunday night was an amped roster rejuvenated by the fans that delivered several really good matches and produced several memorable moments. We got to see Big E finally scratch and claw his way to the top, Roman Reigns continue his dominance, Bobby Lashley rekindle his dominance, and the return of a major superstar.
At the same time, we saw how months of poor booking nearly derailed a couple matches, got a questionable winner in the women's MITB match, and saw a rising star's run cut short suddenly.
Overall though, Money in the Bank was a really good PPV, with everyone giving maximum effort. It would be nice if we could count on the writing staff to do the same and step up with their booking of Raw and SmackDown, but sadly, we'll probably be back here trashing the red brand's offering in 24 hours as they undo the goodwill this PPV generated.
Oh well, let's get to it…