AEW Starting New Feud With Real Life Heat (SPOILERS!)
SPOILERS for this week's AEW Rampage included.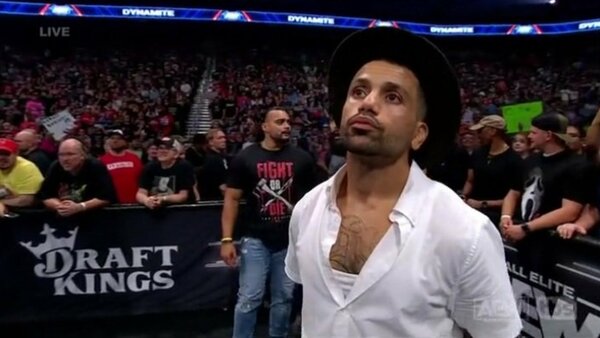 AEW has kickstarted a new feud based on real-life heat, entering Mike Santana and former tag team partner Ortiz into a programme during Wednesday's Rampage tapings.
Santana wrestled (and defeated) the Iron Savages' Boulder during Rampage. Afterwards, he and Ortiz stared each other down on the stage, effectively starting the feud. This follows over a year of reporting that the duo have not been on the same page backstage for a while - and a recent social media spat.
Ortiz tweeted on 9 September, responding to Santana's in-character Rampage promo:
What a way to find out years of having your back meant nothing.Good luck without your "crutch" Just remember it helped you walk for the last 14+ years. Hope your legs are good. Thank you for being honest for once. But you couldn't say it to my face?You know you still can, right? https://t.co/KWrXLiCDe1 pic.twitter.com/qKBWlqQJvq

— Proud~N~Powerful Ortiz (@Ortiz_Powerful) September 9, 2023
Santana responded in a since-deleted post:
"First thing you said to me in 14 months. no text, no call. No, I hope your recovery has gone well, but of course, paint me to be the bad guy like you've always done. Guess you forgot about our last conversation about this. Either way, I'm happy I hope and pray the same for you."
These interactions created speculation on a potential storyline between the two. Now, this appears to have come to fruition.
Fightful Select reports that even though Santana and Ortiz no longer see eye to eye, they agreed to team together at All In, where they were involved in the Stadium Stampede match, before launching this feud afterwards. Their social media shots at each other were part of this.
Konnan has claimed that Santana and Ortiz's falling-out stemmed from a disagreement over AEW's booking, telling Haus of Wrestling:
"Ortiz was definitely down to talk. Santana is kind of like me when I was young; he's kind of a hothead, you know? And so he was really adamant that Ortiz didn't kind of stand by him when he thought he should have, and that's a lot of bad feelings. I'm like, bro; this is, you know, Ortiz is cool; he's not a bad guy. He's kind of a go-with-the-flow type of guy, whereas Santana is very, like, 'They're not doing nothing with us. They need to do something with us,' and Ortiz says, 'Yeah, just chill.' So, I think that was kind of the crux of their problem. I do believe that they'll talk, and there's a good chance they'll put them together. But Santana is of the mindset, and I agree with him 100%, where a lot of people are in AEW, it's like, 'Bro, even though you're paying me, my stock is never gonna go up if you don't use me,' and you only have a small window of opportunity, as you know. "So, from what Santana told me, not getting too much into details, his whole thing was I'm going to talk with Tony, and if they're not going to do anything with me, then I have a decision to make, you know what I'm saying? But we're talking about half the roster feels that way."