AEW's Britt Baker On Issues With Thunder Rosa: "I Stand By Everything I Said"
D.M.D. still has questions for her big-time rival.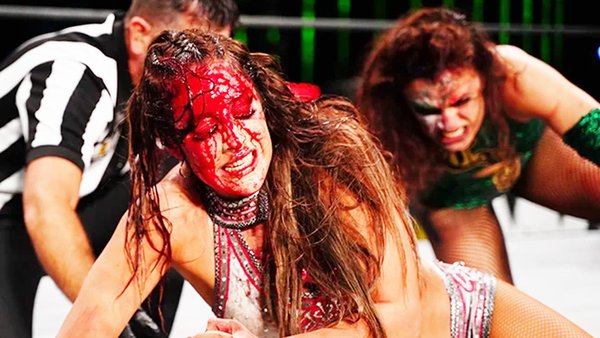 With plentiful previous issues between Britt Baker and Thunder Rosa, that topic has again reared its head as D.M.D. does the press rounds ahead of the launch of AEW All Access. And for Britt, her thoughts on her rival remain the same now as they were last year.
Speaking during an interview with SLAM Wrestling - where Baker and Adam Cole were promoting the premiere of AEW's new show - Britt was asked about a scene in the first All Access episode where she's shown talking to Jamie Hayter and Toni Storm.
In the scene in question, the Role Model states how she didn't appreciate how Thunder Rosa gave up the AEW Women's Title due to a back injury, but that La Mera Mera continued to travel to make personal appearances in the aftermath of that. Of course, Thunder's reign with that belt initially continued on during her time out of action, with an interim Women's Championship introduced and won by Storm. Once Hayter defeated Toni for that prize at last year's Full Gear, the decision was soon made to drop the interim tag and retroactively strip Thunder Rosa of the title.
When asked whether her thoughts on Rosa and this situation have changed in the time since this moment was filmed, Baker said she stands by everything she said back then.
"I stand by everything I said because I still have the same questions. You are travelling all over the place for other projects but you're not coming to work where you are the champion? I have that question. I want to know why. I am just asking that question because I'm very passionate and protective of AEW. Anyone can call me a bully but I stand by that and that question still hasn't been answered to this day. People like Adam Cole would have killed to be able to come to work, but he cannot travel. It is not like he was going in and doing a signing or convention or seminar. They're not coming to work, but he wasn't able to even leave the house."
Of course, there has been long-standing rumblings of heat between Thunder Rosa and Britt Baker dating back across last year and beyond. Added to that, there have also been those in AEW who suggest that Rosa's injury isn't as bad as she's making out.
While she's yet to return to the ring, Thunder Rosa did return to AEW last month as a new addition to the promotion's Spanish announce team. As part of that return, a backstage meeting was held in order to smooth over any tension between Rosa and the women's roster.
It was reported at the end of 2022 that the hope was for the extremely talented Thunder Rosa to be cleared for action by February, though any such in-ring return has yet to take place for the one-time NWA Women's World Champion.