Big E Reveals New Details On His Broken Neck Recovery
Former WWE Champion Big E speaks on his ongoing recovery from serious injury.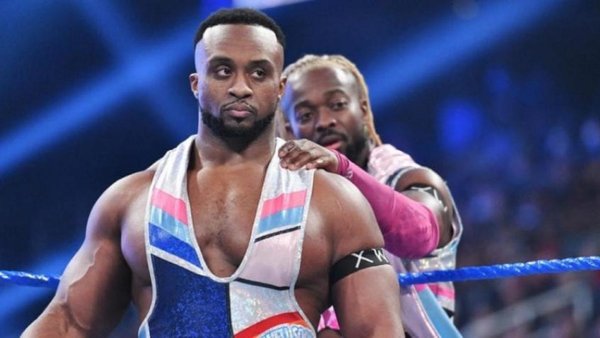 WWE absentee Big E has shed new light on his recovery from a broken neck, having been out of action since fracturing his C1 and C6 vertebrae in a New Day match vs. Sheamus and Ridge Holland on 11 March
Speaking on Out of Character with Ryan Satin, the former WWE Champion stated that he actually fractured his C1 vertebrae in two places. Currently, the C1 isn't ossifying, though it is healing - and WWE doctor Joseph Maroon isn't worried about him living his day-to-day life.
Said Big E (h/t WrestlingManiaFan.in):-
"For those who don't know, I broke my C1 in two places, It's a 'Jefferson fracture' what they call and I also broke C6 and did that in March. So last update I talked to Dr. Maroon, who's a Pittsburgh based doctor and he's worked with company for a very long time and essentially the issue right now is my C1 is not completely ossifying, it's not completely forming into bone. But it appears to be healing fibrously, so It's kind of contained enough. I'm not a medical expert, I'm gonna butcher all this terms but It's good enough that, they are not worried about me, my day to day life, they are cool clearing me, I don't need the brace anymore they took surgery off the the table."
July saw E use Twitter to inform fans that the next step in his recovery would involve scans at the one-year mark of his recovery, taking him through until at least March 2023. This is still the plan. Although his doctors may take another look at the six and nine-month marks (September and December), the one-year point sounds pivotal.
The 36-year-old also stated that he was effectively cleared to live a "normal life" at the moment:-
"Right now, I would be cleared to live a normal life but I'm not cleared to be taking off and hitting suicide spears and to be taking back bumps. The nature of what we do is very physical and involves your neck and spine and I like to keep that as intact as possible. So for me right now, the next step is they wanna take a look at it again after a year, I get some more scans. So we were talking about like March of next year to see how it's doing, we might also along the way at the six and nine-month mark look at it again. But the upside right now is I have no nerve issues there's no tingling, no weakness and I've been in the gym since two weeks after breaking my neck. They told me as long as your neck is in the braces, as long as you stay in the braces you are good for that."
E was WWE Champion as recently as 1 January, when he dropped the strap to Brock Lesnar in a multi-man match at the Day 1 premium live event. His injury came when taking a belly-to-belly overhead suplex from Holland outside the ring on the 11 March SmackDown show.
Whether or not the popular star will ever wrestle again is currently unclear. Recently, Big E told TMZ Sports that he was at peace with potentially having retirement enforced upon him.
Create Content and Get Paid
---