Braun Strowman Blasted By AEW & WWE Stars For "Flippy Flipper" Comments
Chris Jericho, Mustafa Ali, and more roast WWE's Braun Strowman after wild Twitter outburst.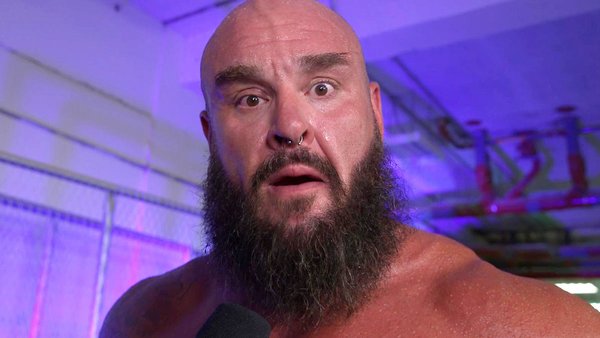 Chris Jericho, Will Ospreay, and Mustafa Ali were among the wrestlers to respond to WWE's Braun Strowman on Sunday, following 'The Monster Of All Monsters'' decision to blast what he calls "flippy flipper" wrestlers in favour of giants.
Strowman's divisive tweets came in the wake of WWE Crown Jewel 2022, where he wrestled Omos. Billed as a battle of the promotion's two most physically imposing behemoths, the bout went around eight minutes, with Strowman besting 'The Nigerian Giant' (billed at 7'3" compared to Braun's 6'8") in a traditionally-styled, straightforward big-man battle.
The morning after, Strowman felt compelled to claim that "no one cares about all these floppy floppers", who may or may not be distinct from the "flippy flippers" he claims bag groceries at Kroger. Later, after spending a chunk of time arguing with people in his replies, Strowman claimed it was all a joke.
AEW's Jericho crossed the promotion divide to chime in on the Kroger comment:-
I used to bag groceries. https://t.co/ctgAVba252

— Chris Jericho (@IAmJericho) November 6, 2022
Jericho's rostermate, Brody King, had a more humourous take.
NJPW's Will Ospreay was pointed and sensible, calling Strowman out for blasting peers who are essentially doing the same job as him, albeit in a different style:-
Why you so mad about making money 😂

It's dead funny that you actually done such a great job and yet you're mad at other people that do the same job as you.Relax my guy, just say you really enjoyed showing super heavyweight wrestling https://t.co/MrdzDg4RNl

— ᵂⁱˡˡ ᴼˢᵖʳᵉᵃʸ • ウィル・オスプレイ (@WillOspreay) November 6, 2022
Mustafa Ali Cooks Braun Strowman
But it was one of Strowman's fellow WWE stars who landed the biggest blows on the Monster, with Raw's Mustafa Ali cutting Braun down to size.
Ali, a high-flyer and former Cruiserweight Championship contender, went for the throat. His first response reference Strowman's WWE release in June 2021, which still ranks amongst the most shocking of the company's pandemic-related roster cuts:-
can you teach me how to get fired? https://t.co/NiYsXUkqpA

— Mustafa Ali / Adeel Alam (@AliWWE) November 6, 2022
Ali's first tweet may also be a reference to the Chicagoan requesting his own release from WWE in January. Coinciding with a lengthy absence from television, this was ultimately declined by WWE.
When Strowman tried to jab back in response, Mustafa flipped his insult around:-
was definitely in the kitchen cooking you. https://t.co/6EbdMQSp65

— Mustafa Ali / Adeel Alam (@AliWWE) November 6, 2022
Braun returned to WWE television in September, becoming one of the biggest names to re-sign under Paul 'Triple H' Levesque's creative lead. Ali, meanwhile, has recently had his sights set on Seth Rollins' United States Championship, having been elevated towards the top of the Raw card in recent weeks.