WWE's Braun Strowman Loses It, Blasts "Floppy Flopper" Wrestlers
Braun Strowman spent his Sunday arguing online after wrestling Omos at WWE Crown Jewel 2022.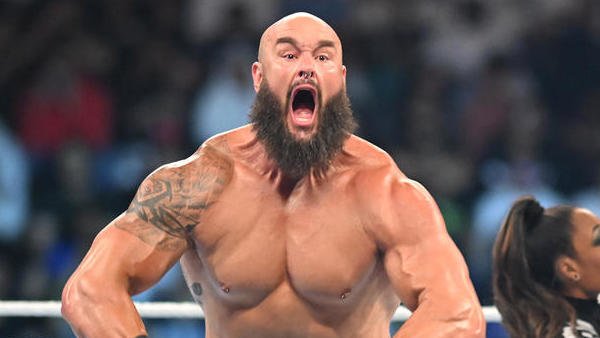 Braun Strowman wrestled Omos in a battle of WWE's two most physically imposing wrestlers at Crown Jewel 2022, besting 'The Nigerian Giant' via running powerslam after around seven minutes of textbook big man spots. Now, 'The Monster Of All Monsters' has hit Twitter to claim stylistic superiority over wrestling's high-flyers - in his own unique way.
Tagging Omos, Strowman set himself up for a Sunday spent bickering with people online by claiming they scored "47 *****" at Crown Jewel. Braun added that their match was a reminder that "no one cares about all these floppy floppers", who bag groceries at Kroger.
Braun tweeted:-
Holy hell @TheGiantOmos can you believe we got 47 ⭐️⭐️⭐️⭐️⭐️ and reminded the people that no one cares about all these floppy floppers. Giants and Monster > flippy flipper bag your grocery's at @kroger #AirportTest #SizeIsThePrize #SwoleIsTheGoal

— The Monster of all Monsters (@Adamscherr99) November 6, 2022
The 39-year-old then got into it with several people in his replies. An hour later, he claimed he was going to sleep on his flight home, calling himself the greatest big man in wrestling history. Strowman then re-emerged to claim he was joking, saying he respected everyone in the WWE locker room while still taking shots at the "iwc."
Yo yo all my brothers and sisters in the locker room no matter where you came from. I have mad respect. We have all worked very hard to be where we are. And all are here for a reason. Take a joke iwc. Y'all come at me none stop and the second I fire back y'all melt.

— The Monster of all Monsters (@Adamscherr99) November 6, 2022
Raw's Mustafa Ali and NJPW star Will Ospreay were amongst the most notable names to reply to Strownan.
Braun Strowman Criticises Indie Wrestlers.
Strowman has an unfortunate history of objectionable comments on wrestlers in less privileged positions than he. In March 2020, at the COVID-19 pandemic's height, Braun responded to AEW's Evil Uno asking fans to support wrestlers as the sport was beginning to shut down with the following on Instagram:
Here we go with more of the somebody pay for my bills stuff. If you can't afford to pay your bills maybe you should change professions. That's why I quit strongman. I loved it, but I couldn't afford to live so instead of making a go fund me or a Patreon wanting someone else to take care of me I went out and worked harder than I ever have in my life to get to where I am. What happened to being accountable for your own actions????!!! And for anyone that goes 'that's easy for you to say you're a WWE Superstar' just [an] FYI 7 years ago I moved to Florida with everything I owned in a Kia Soul with $150 to my name when I started this!!! [sic]
The former Universal Champion entered pro wrestling through WWE in 2013. He got his big break as a Wyatt Family member two years later, then worked his way towards the main event scene in 2016, though WWE released Strowman and his reportedly hefty salary in a notable June 2021 release.
Thus commenced Strowman's own indie run, which encompassed only nine matches across 14 months. Working primarily for EC3's Control Your Narrative startup, Strowman re-signed with WWE on 1 September, re-debuting on Raw four days later.