John Cena Once Dissected WWE's 205 Live Commentary
WWE's poster boy Cena helped Vic Joseph massively just because he could.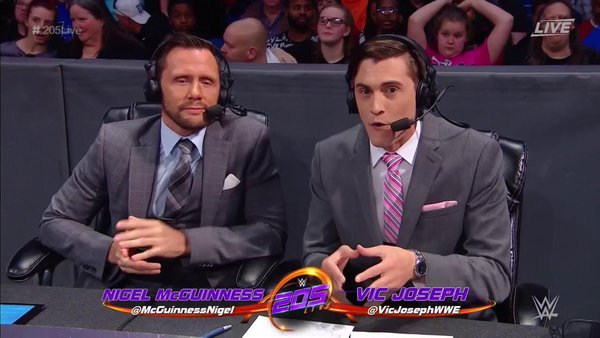 John Cena is an actor, wrestler, comeback king and commentary producer.
Well, he was a commentary producer, and the gig might've only lasted for one night. It still counts though, and it's something NXT's Vic Joseph will never forget. Vic was new to the announce booth when JC pulled him aside following an episode of 205 Live.
Earlier, Joseph told Corey Graves on 'After The Bell', the play-by-play man had introduced himself to 'Big Match John' and said he was looking forward to getting started. That's when Cena asked if Vic was new, found out he was and said he'd watch the show.
Joseph thought he was kidding around.
He wasn't. John actually did take in that evening's 205 Live broadcast, and he wanted to offer up some advice to the newcomer afterwards. Backstage, Cena called Vic over and went through his performance; incredibly, WWE's then-poster boy also suggested a few ways that Joseph could endear himself to the promotion's power players by saying the right things at the right times.
Vic was grateful that Cena took time out to grade his commentary. He also appreciated that one of the biggest stars ever was looking out for him without being asked.
Create Content and Get Paid
---