Matt Cardona Drops Trademark Application For 'Zack Ryder'
The Death Match King didn't fancy fighting WWE over his former moniker.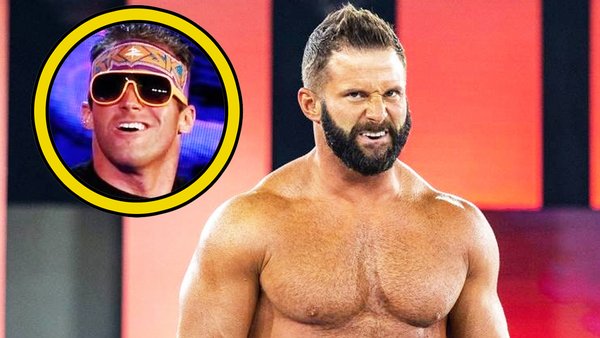 Having applied to trademark his old Zack Ryder name earlier this year, Matt Cardona has revealed he's now dropped that claim due to WWE fighting him on the matter.
Speaking on Jason Powell's Pro Wrestling Boom (via POST Wrestling), Cardona confirmed that he applied to trademark "Zack Ryder" and his "Woo Woo Woo! You know it!" catchphrase, due to the trademark on those terms having been allowed to lapse by WWE.
Once WWE opted to fight Cardona's trademark request, the star himself decided to back down.
"They did let it lapse. I applied for it knowing there's a chance they could fight it, and they have, so that's it, I'm letting it go. It would've been cool to do a cinematic Matt Cardona vs. Zack Ryder match. It's not gonna happen, I'm not gonna fight, because at the end of the day it's their intellectual property. They would win if we ever went to court over it, so I tried, they fought it, so that's it, I'm backing down."
In addition to wanting the Ryder moniker so that he could pit himself against, well, himself, Cardona also noted that he wanted to own that name for merchandising purposes.
"Zack Ryder is dead, in my opinion. It's all Matt Cardona, but I did want to have it just to do that Matt Cardona vs. Zack Ryder cinematic match for it, since I how my own toy company, Major Bendies. It would have been cool to make a Zack Ryder vs. Matt Cardona two-pack. Stuff like that. More so matches than participating in matches as Zack Ryder. It's over, it's dead, it was great. I'm grateful for that time, but it's done."
Having been with WWE as far back as 2005, Matt Cardona was one of the many talents released by the market leader during the COVID-19 pandemic. Along with his long-time partner Curt Hawkins/Brian Myers, Cardona was part of the 15 April 2020 round of "budget cuts".
Following his WWE departure, the one-time Intercontinental Champion has completely reinvented himself across these past few years. Marking himself as one of the hottest - if not the hottest - free agents in the game, the Long Island native has notably had stints as the NWA Worlds Heavyweight Champion and infamously the GCW World Champion, plus has become a mainstay of IMPACT Wrestling in addition to a handful of appearances for AEW.
While Cardona's wife Chelsea Green returned to WWE at this year's Royal Rumble, there had been plentiful speculation that Matt himself may return to the promotion at that January PLE. Obviously that did not happen, though prior reports claim that Paul 'Triple H' Levesque would "100%" take Cardona back should the opportunity arise, with the Game said to have been majorly impressed by the star's post-WWE work.
Interestingly, the end of last month saw it reported that Matt Cardona has worked his final dates for IMPACT Wrestling, which many are taking as a further indicator that the self-proclaimed Death Match King is gearing up for a return to WWE sooner rather than later.
First and foremost for Cardona, he's set to challenge Tyrus for the NWA Worlds Heavyweight Championship at this weekend's Nuff Said PPV.