Predicting WWE WrestleMania 38 Nights 1 & 2 Cards
With The Great One out, who will battle The Tribal Chief at WrestleMania 38?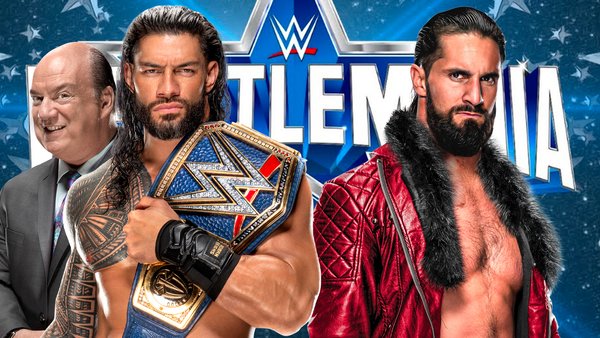 Despite the wrestling world seemingly clamouring for it from the moment his last in-ring showing against Erick Rowan broke a cheeky record at 'Mania 32, it's now been all but confirmed that Hollywood's favourite Great One will NOT be showing up in Vince McMahon's empire any time soon.
So, the fact that one of the most mouth-watering fantasy clashes available in modern times, that being The Rock vs. Roman Reigns over the Universal Championship, is now thoroughly off the table got your writer wondering: what in the holy hell is the WrestleMania 38 card actually going to look like?
Thankfully, reports do suggest that the next iteration of the Showcase of the Immortals will still very much be a two-night affair, allowing for various grudge matches, multi-person wars, and stip-heavy hurricanes to breathe a little in front of a (hopefully) capacity crowd within Texas' AT&T Stadium. But, as always, with the sheer amount of talented folks currently signed to WWE, it's virtually impossible to shoe-horn everyone onto the blockbuster card; assuming we once again are going to have a battle royal-less Show of Shows. (SmackDown doesn't count!)
So, honourable, and hopefully at the very least pre-show-worthy, mentions go out to the likes of Shayna Baszler, Otis & Chad Gable, Dolph Ziggler & Bobby Roode, Natalya, Tamina, Erik & Ivar, and so many more. Also, this prediction card takes into account the fact that certain stars may not even be involved with the promotion 'Mania season... looking at you, Kevin Owens.
But enough of the stage setting, let's get to booking the biggest damn show of the year...