Ranking Every UK Title Change In WWE History From Worst To Best
7. Rated RKO (World Tag-Team Titles - Raw, 2006)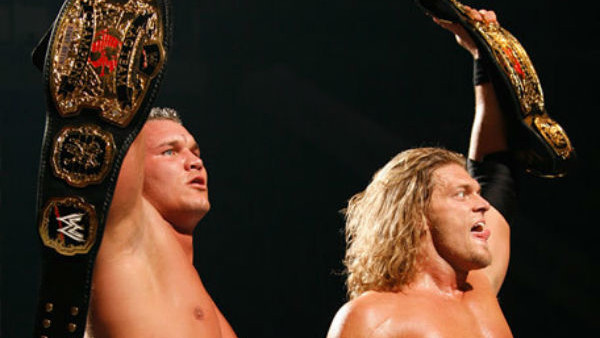 You'll be pleased to know that the run of five-minute matches is about to come to an end. First, a little look at a curious main event from the 13 November 2006 Raw in Manchester. Roddy Piper and Ric Flair being Tag-Team Champs by this point sounds like the answer to some obscure trivia question, but they were super over with a UK fan base delighted to see them.
It was a smart move to switch the titles to Edge and Randy Orton, then collectively known as Rated-RKO. Fans did seem surprised by the quickness of the match, and though it can hardly be considered a bell-to-bell classic, there is something to enjoy here: the chemistry between Edge and Orton. They were one hell of a heel team.
This was little more than set up for an eventual Rated-RKO vs. D-Generation X title match at New Year's Revolution, and yet it worked. Simply seeing Piper and Flair team up was a thrill for the British fans, and they got that all-important title change.