Ric Flair Shoots HARD On WWE, Vows To Never Work For Nick Khan
Flair slams "disrespectful" Nick Khan, blasts WWE for trying to get his intellectual property.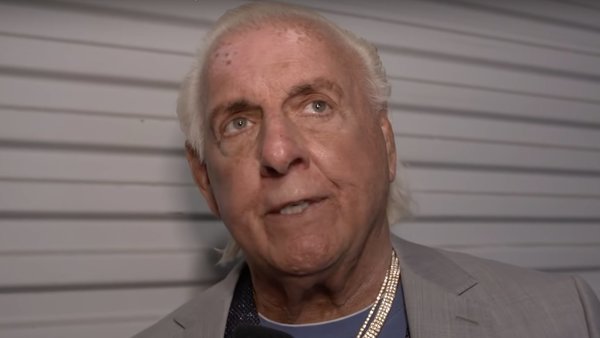 Yesterday's second episode of Wooooo Nation Uncensored podcast started with a bang, as Ric Flair told Mark Madden that his first week of podcasting earned him more money than his entire first year in wrestling (1973), before vowing to never work for WWE again.
Flair denied rumours that he had spoken to AEW, which surfaced following his WWE departure in August. Despite this, he said he was open to the possibility of working with Tony Khan, as WWE had "done some really stupid stuff" lately.
The 16-time world champion spoke on WWE pulling him from their pre-show vignettes, putting the blame at chief revenue officer Nick Khan's feet (h/t Fightful):-
"If you take me off of the opening of the show and take the 'WOOO!,' which I own, thank God. They'll never get it back, replace me with The Ultimate Warrior, a guy that sued the company, held them up for money. I guess the next thing they're gonna do with me, is make a DVD saying and have so many people saying how bad I was like they did with The Warrior and then they brought him back and put him in the Hall of Fame. That ain't gonna work for me. One and done. I text Vince, 'No worries. But you know, you're not going to do it, you're not going to bring me back.' Not they want me by any means. But I couldn't ever work for Nick Khan in my entire life. Vince McMahon, I could work for, but Nick Khan, who's the guy that orchestrated taking me off the show. I've got my facts together, orchestrated taking the 'WOOO!' off, never in a million years. Well, the big difference between Tony Khan and — Tony respects me. As does Vince. Nick Khan has none. I talk to Vince now. I got no problems with Vince. He just knows I won't come back."
Continuing, Flair said that at 72 years old, he "could be dead tomorrow", and the last thing he wanted was WWE "making a package on me ever." That, he claimed, will be left to Tony Khan.
Ric went on, accusing WWE of attempting to get him to sign over his intellectual property to the promotion while he was on life support back in 2017:-
"Let me just tell you something else that should not shock the world. When I saw that they took me off the opening and all that for whatever reason, you know, Who knows? I call it a lack of respect. Some people, some people said to me, 'Ric, how do you feel about that? I said, 'Well, after they asked me to sign my intellectual property to them while I was on life support, nothing that company does surprises me.'"
Flair's Wooooo Nation Uncensored podcast quickly shot to the top of multiple global wrestling podcast charts upon last week's launch. With talking points as strong as the above, this week's episode is sure to garner significant attention as well.
Beyond the podcast, Ric is currently inactive in wrestling having departed WWE at his own request in August. His reputation has, however, taken a significant dent following renewed conversation on the sexual misconduct allegations explored in a September episode of Dark Side of the Ring, focusing on the Plane Ride From Hell.
Create Content and Get Paid
---