Rumour Killer On Hulk Hogan Wrestling Ric Flair
Thankfully, it doesn't sound like Hulk Hogan will face Ric Flair at Starrcast.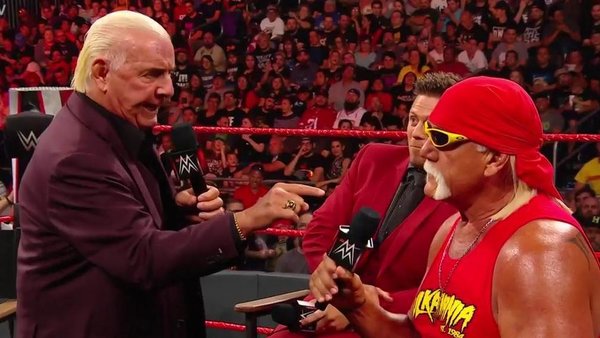 It doesn't sound like Hulk Hogan will be involved in Ric Flair's final wrestling match at this year's Starrcast convention.
Rumours of Hulk's participation came from former WWE wrestler Brian Blair, who stated that he was looking forward to seeing Flair and Hogan at the event, then claimed he wasn't sure if Hulk would be wrestling when pressed on the matter.
Flair addressed this speculation on a recent episode of his To Be The Man podcast for AdFreeShows.com. When host Conrad Thompson asked about Hulk, Ric confirmed that while Hogan has been invited to watch the match, he doesn't think he'll be wrestling (h/t WrestlingNews.co):-
"Not that I know. I think you would have run that by me… he's invited. I've talked to him personally to come to the roast and come watch the match. But yeah, he hasn't confirmed for sure but I'm pretty sure he'll be there."
At 73 years old, Flair is due to work what is being billed as his final pro wrestling match following Starrcast V on 31 July. The Nature Boy's opponents are yet to be confirmed, though a six-man tag pitting Flair and AEW's FTR against The Rock 'N' Roll Express and another has been rumoured.
Ricky 'The Dragon' Steamboat, one of Flair's most legendary opponents, recently rejected the chance to compete in the match.