The 24/7 Championship Is Actually The Best Thing In WWE Today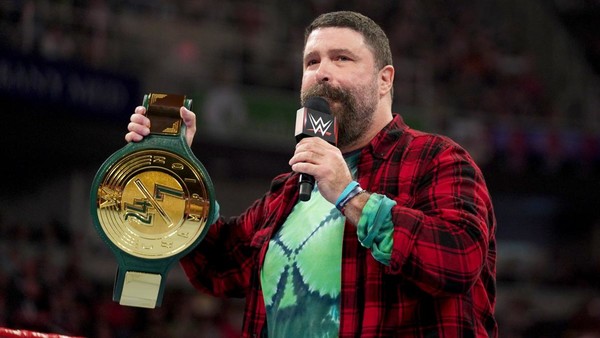 It's fair to say we didn't see this outcome for WWE's newest championship when it made a debut as inauspicious as The Shockmaster's three weeks ago. During Money in the Bank, the promotion announced that Mick Foley would alight on Raw the next day to draw leather from a velvet bag. Rumours about a '24 hour' title soon surfaced, as increasingly intrigued fans put two and two together in the assumption of the revival of the Hardcore division.
Despite the seemingly simple equation, those same fans had actually made five. Foley had been flown in as the ultimate clickbait, trading on the synergy between history and hope, whilst also acting as the expendable fallguy following the inevitable fallout. There was no chance WWE - in spite of the Hall of Famer's vow that Raw would start living up to its name - was about to reintroduce violence as we'd once seen it. Instead, the new '24/7' strap stood for a sanitised form of 'happy hardcore' - and many fans were left raving about it.
It wasn't helped by the fact that the physical manifestation of this milquetoast of a new division was perhaps the ugliest wrestling belt manufactured since Jeff Jarrett's suitably emetic Global Force puke green efforts. The straight-up shabbiness of the strap sent a message, pigeon-holing the assembled throng who emerged to challenge for it as no-hopers, victims rather than beneficiaries by association. That the inaugural winner was Titus O'Neil, a man whose WWE highlight is a You've Been Framed Video of the Week, compounded the lowly designation.
Hands were wrung raw then, as the raw Raw called for was no more. The 24/7 Championship was just another reminder that no matter how vocal the calls, the past - which was just better, right? - will never return. Foley's comments that the title could restore the fun of the Hardcore belt minus the danger were not commonly repeated; we wanted our grit, dammit.
The former Cactus Jack says a lot of questionable things these days, but we probably should have listened to him on this one. Though it took another misstep in week two, with a chase sequence devolving into an elaborate game of Aussie Rules Football as the concept re-established itself, since then it's somehow been the most creatively fecund element of the entire product.
[Con't. P2/4]