The Rock's 10 Best Matches Ever
6. Vs. Kurt Angle (No Way Out 2001)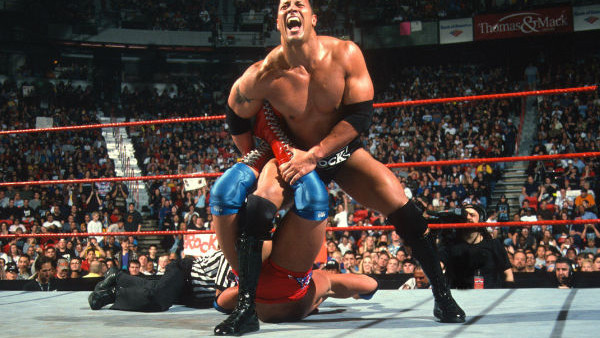 Just like the aforementioned Angle/Undertaker triple threat match, this was a set-up for Rock to serve as transitional champion, putting the belt on him so that he could pass it on in a high-profile Big Four main event. In this instance, Rock warred with defending champion Angle, who had suddenly added a mean streak to his obnoxiously-oblivious personality.
You knew you were watching something special in 2001 when erstwhile milk-and-a-smile Angle yells that he will "break (Rock's) f--king ankle!" in the midst of a deeply-coiled ankle lock. The added intensity (Three I's, indeed) from Angle played right into Rock's hands, as Rock can always match the potency of his opponents.
Not even the most random of Big Show cameos could kill the match's mojo, as a ton of finisher kick-outs (before they became cliche) had the Las Vegas crowd biting hard on each one. Looking back, this may have been Angle's best WWE match to date as well.