Titus O'Neil Likes Twitter Comment BASHING His WrestleMania 37 Co-Host Hulk Hogan
Not everyone is pleased to see the return of 'The Hulkster'...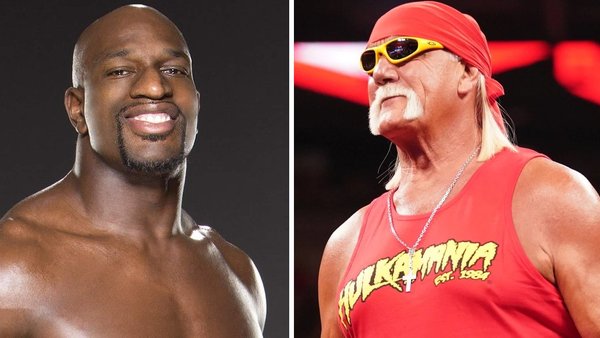 WrestleMania 37 host Titus O'Neil has liked a tweet aiming criticism at WWE's recent decision to add Hulk Hogan to this year's two-night event as his co-host.
The critical Twitter response to the news of Hogan and O'Neil co-hosting the event, posted by user @DJSeanJuan, reads as follows:
"Precisely why this company stopped getting so much of a DIME from me. Peace to @TitusONeilWWE, tho That is a good brother #divinenine"
One click on the aforementioned tweet's 'Likes' option reveals that O'Neil is one of the people who agree with these words. Whether his like is a respectful nod to the latter part of the statement or sign that he too isn't on board with Hogan being brought back into the fold isn't entirely clear. But, it certainly adds to the controversy surrounding 'The Hulkster's first 'Show of Shows' appearance since 'Mania 35.
Also, the pair promoted their co-hosting gig on YouTube in the wake of the news landing yesterday, though it's worth noting that they did so separately from different locations.
In the wake of his firing from WWE post-racist sex tape rant in 2015 and eventual return to the company in 2018, there's no questioning the fact that Hogan has become one of the most divisive figures in wrestling over the last few years, and having him front and centre at an event of this stature seems likely to rub a lot of people up the wrong way.