Triple H Likes Tweet Criticising Vince McMahon & WWE Storylines
Even Vince's son-in-law is sick of WWE's creative mess...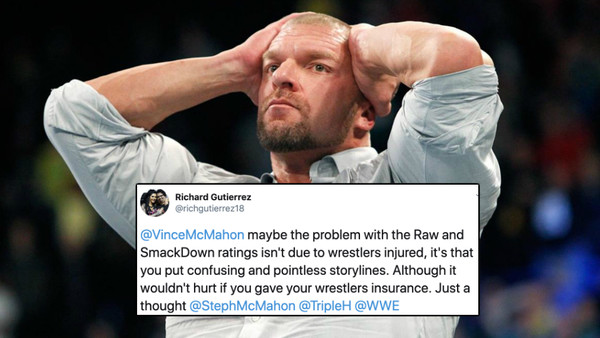 WWE's long-term creative downturn continued with an ill-received episode of Raw last night, in which Vince McMahon introduced (and immediately broke) the brand split-destroying "Wild Card Rule," The Usos tried to burn The Revival's crotches off, Braun Strowman literally threw Sami Zayn in the bin, and Baron Corbin wrestled for 20 minutes.
The company's programming is in the doldrums again. This is a nadir reminiscent of late 2018, when the McMahons acknowledged the problem with their goofy "you're in charge, now" speech, and it looks like even Vince's heir apparent has had enough.
As pointed out by David Bixenspan, Triple H recently liked this tweet to Vince criticising WWE's storytelling methods:-
If deliberate, this is a hilarious move from a guy who, unlike many of his peers, actually manages his own social media accounts. Triple H is a company executive and the man who'll likely take the reins when Vince decides to retire, and he's out here sticking red hearts on random tweets from annoyed wrestling fans. Incredible patter. WWE's Banter Era remains undefeated.
All this and it isn't even the daftest thing Triple H has ever done on Twitter...