Will Ospreay Says He And Top WWE Star Could "100% Make Some Magic"
Will Ospreay is a major fan of this WWE favourite.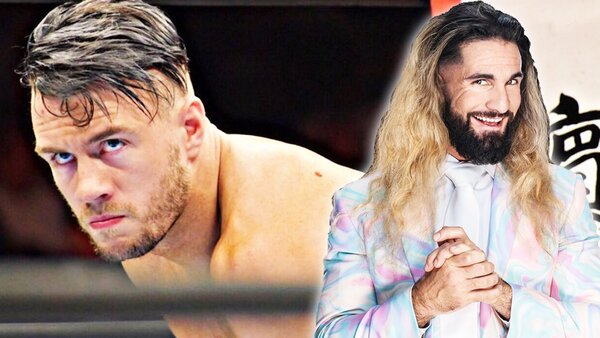 In what would be a dream match for many a wrestling fan, Will Ospreay believes that he and Seth Rollins could make magic together should they at some point lock up in the squared circle.
Speaking during an appearance on Insight with Chris Van Vliet (via eWrestlingNews.com), Ospreay was asked who would be his ideal "Forbidden Door" opponent.
When prompted that Seth Rollins could be that opponent, the former IWGP Heavyweight Champion agreed:
"I think it's gotta be Seth. After the little Twitter thing, we've got to. It would be fun. And he's so over right now. You see the crowd singing his song and everything; it's mad. Especially from what he was getting when we had our little thing. That was a mixture of bad booking and everything along those lines at that time. Now, it's crazy. It's mad."
When asked whether he would bring Rollins "up another level", the Englishman had further praise for the new WWE World Heavyweight Champion:
"I would hope so. Iron sharpens iron. He's so sick. I just feel like, yeah, together we could 100% make some magic."
As for the use of the phrase Forbidden Door here, that was more in the context of an opponent who would usually be out of reach, rather than lining Ospreay up with an opponent at the upcoming AEW x NJPW PPV of the same name.
Of course, the "little Twitter thing" that the Aerial Assassin refers to, is the brief online beef between the pair back in 2019. That involved Rollins proclaiming WWE as having the best pro wrestling action on the planet, to which Ospreay took umbrage with that statement. From there, Seth stupidly offered to compare bank accounts with the NJPW man, though the Visionary would soon issue an apology after realising how "dumb" and "trash" that comment was.
For those hoping to see Seth Rollins vs. Will Ospreay, that dream match seems very much like it'll have to remain a dream match for the foreseeable future, not least for how the Commonwealth Kingpin made it known in this latest interview how he "is a real home guy" and that he wouldn't currently be interested in WWE due to how he'd need to move to the US if he were to sign with the promotion.