WWE Extreme Rules 2019: 8 Shocks That Could Happen
1. Brock Lesnar Cashes In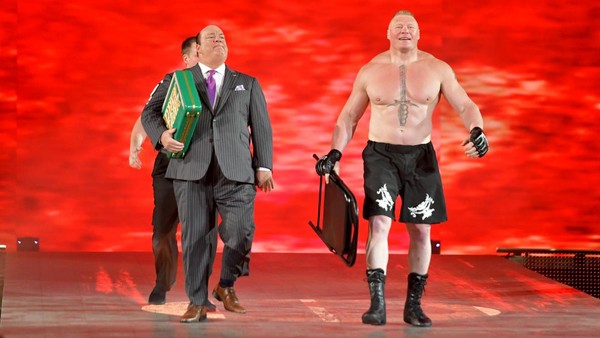 DOW-NOWNOW-NOW-NOW!
That, admittedly poor, text representation of the opening strains to Brock Lesnar's theme usher in thoughts of an inevitable Money In The Bank cash in. What if Brocky boy is there in Philly after all (like Paul Heyman hinted on TV this week), and what if he is poised to regain championship gold in WWE? The kicker is that it wouldn't be at Seth Rollins' expense.
The smart heel picks his prey carefully. Heyman, as Lesnar's braintrust, would know the surprise element of cashing in on the WWE Title rather than the Universal one, and he'd appreciate how vulnerable Samoa Joe would be mid-bloodlust. With Joe's mind still swimming in a sea of fervent viciousness, he'd be ripe for the picking.
Whether fans love or loathe Brock, it's nonetheless true that he's a bankable commodity who would raise SmackDown's profile. If WWE put the belt on him this Sunday then build towards a 'Monster vs. Man' story between Lesnar and Kofi at SummerSlam (dependent on how long Kingston is out injured for, if he is), they'd instigate some momentum for the show's move to FOX in a few months.
What other shocks do you think could happen at Extreme Rules 2019? Let us know down in the comments section below!