WWE Hall Of Famer Labels AEW's Tony Khan A "Petulant Child"
"He is a child with a vanity project."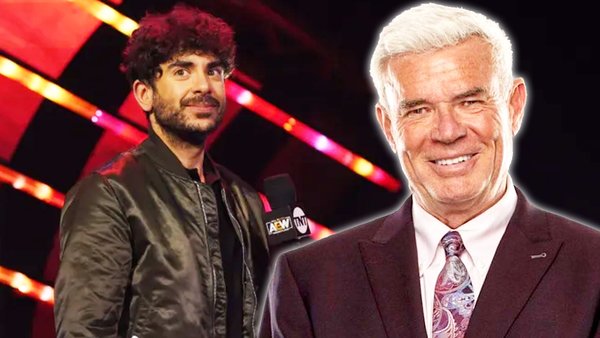 Never one to sugar-coat his words, Eric Bischoff has moved to label Tony Khan a "petulant child" after the AEW President's recent digs at Ariel Helwani.
For those who missed it, Khan engaged in a bizarre beef with combat sports and pro wrestling journalist Helwani on Friday evening.
When Helwani was seen in the crowd for WWE SmackDown, the AEW man took to Twitter to lambast Ariel as a "fraud" and take a swipe at his "unbiased journalism". Previously, Khan had been a guest on Helwani's MMA Hour podcast in what proved to be an extremely uncomfortable interview where the AEW man refused to answer the majority of questions posed to him.
Speaking on his 83 Weeks Podcast (via WrestlingNews.co), Bischoff criticised Khan for how he's handled this whole situation.
As Eazy E detailed:
"Tony is inviting a lot of this criticism. He acts like a petulant child in the way he responds, and his response to Ariel in the crowd was a petulant child whose feelings were hurt because somebody took his toy away from him. I mean, it's just so absolutely childish. I think that's a reflection, at least in my mind, of who Tony Khan is. He's immature. He is a child with a vanity project. He's passionate, I'm not taking anything from that. It's not like, you know, one eliminates the other, meaning, you know, great, his father's worth however many billions of dollars. What I heard, I don't know if it's true or not, doesn't matter if it is or isn't, but I heard that at some point Tony launched this thing with $100 million of money that his dad was going to leave him in the will anyway. So, it was Tony's money, but it just came from his dad. Doesn't matter. Doesn't matter if he earned that $100 million coming up with a cure for cancer or whether he inherited it. In my opinion, it doesn't matter. But when you act the way Tony acts and the way he reacts to things, I think it furthers a negative impression of him, and Tony should have never reacted the way he did to Ariel being out there [on SmackDown]."
Away from Eric Bischoff, Michael Cole was another to take a shot at Tony Khan for his comments towards Ariel Helwani.
Throwing playful shade at Khan, Cole used an appearance from Helwani alongside Georges St-Pierre in the crowd at WWE Elimination Chamber on Saturday to describe the Montreal native as the "unbiased, world renowned combat sports journalist" who "asks all the hard questions, whether you want to answer them or not".
Tony Khan himself has yet to follow-up on Friday's digs at Ariel, and it may well be for the best if the AEW founder opts to let this matter drop, for fear of inviting further criticism.