WWE Raw Preview - Arrow's Stephen Amell Guest Stars
Who will be there and what big names are sitting out?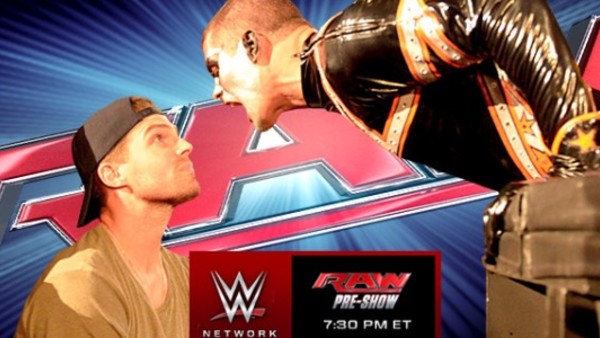 This week's WWE Monday Night Raw takes place in Everett, Washington near Seattle and is the second last episode before SummerSlam on August 23. The big news going into the show is that actor Stephen Amell from Arrow will be there to confront Stardust, who he has been feuding with over social media since he made an appearance on a May Raw episode. Amell was originally booked to be at a signing in Chicago on August 23, but that was cancelled so he can be at SummerSlam. It's probably going to be Neville vs. Stardust at SummerSlam with Amell possibly in Neville's corner in costume as "The Arrow" at the show. There's a chance that Amell might wrestle at SummerSlam, but his TV show contract could prevent that. In terms of who isn't going to be there, Brock Lesnar will be absent and it's likely that his advocate Paul Heyman will be as well. The Undertaker isn't expected to be there. Both Lesnar and Undertaker are advertised for Raw next week in Minneapolis.
John Cena isn't expected to be on Raw either, but he is advertised for Tough Enough on Tuesday. He's been dealing with a broken nose and is probably going to return to Raw next week. Sheamus is
out of action
due to a possible concussion and his rumoured match with Randy Orton at SummerSlam is up in the air at this point. Here are the five questions about the show on WWE.com: Is Stephen Amell prepared to €˜embrace the strange€™? Will John Cena accept Seth Rollins€™ challenge? Is Ryback€™s Intercontinental Title reign in jeopardy? How will Summer Rae retaliate against Lana? Will €˜families€™ clash before SummerSlam? Ryback is
supposed to be there
, but WWE may choose to make it a surprise instead of advertising it. Dolph Ziggler could be on Raw because he's been filming a WWE movie in the Vancouver area and that's not far from where Raw is, so he could be back to set up the match against Rusev at SummerSlam. If he's not there this week, he's definitely expected to be there next week. There are no matches announced prior to the show. That's typical WWE where they don't like to announce stuff until about an hour before Raw starts.
Create Content and Get Paid
---