10 Comic Books That Made A HUGE Impact In The Real World
6. Heroes Address World Hunger - Heroes For Hope And Heroes Against Hunger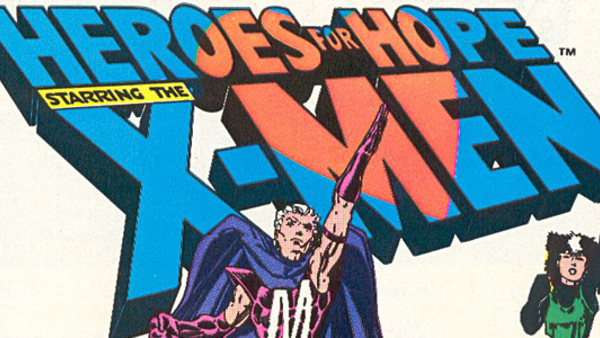 Heroes for Hope Starring the X-Men (Marvel) and Heroes Against Hunger (DC Comics) are two one-shot comic books created by Jim Starlin and Bernie Wrightson. These 1985 and 1986 "jam books" featured the work of numerous creators and were made to bring awareness and financial assistance to those affected by the famines in Ethiopia from 1983-85. In addition to the comic talent, novelists Harlan Ellison, Stephen King, and George R.R. Martin contributed to Heroes for Hope. All proceeds from both books went to famine relief.
In Heroes for Hope, the X-Men found themselves under assault by a powerful psychic entity. It subjected each of them to torturous personal images of hunger, sadness, and loss. Rachel Summers' powers allowed the team to trace the entity to Africa, where they discovered it was an ancient god that feed off human suffering. They defeated it and stayed to hand out relief supplies.
In Heroes against Hunger, Superman, Batman and Lex Luthor took the more direct approach of going to Ethiopia to help. Superman thought that he could tame the desert with his superpowers but failed. Then, he encountered an alien who was feeding off the entropy of the region, but it was not the cause of these problems. Batman asked Lex Luthor to help, yet even Luthor's genius couldn't bring growth to the desolate region. The best they could do was defeat the alien and return to their normal lives.