10 Comics Secrets We Still Can't Explain
9. Scourge Of The Underworld's Identity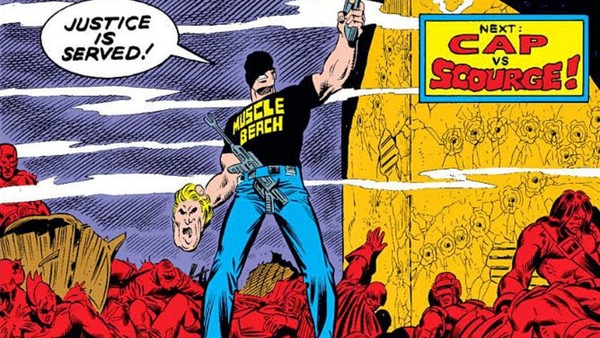 Back in 1985, Mark Gruenwald had a little problem he needed to take care of; namely, there were too many crummy villains in the Marvel Universe. To take care of the issue, he created a new kind of plot device in the form of a character he called "The Scourge of the Underworld."
He first appeared in Iron Man #194, and he remained a useful took for several months. His MO was to show up in disguise to a supervillain, shoot them with an explosive-tipped bullet, kill his target, and say the catchphrase, "Justice is served!"
That went on for a little while, but killing one bad guy at a time was taking too long, so in Captain America #319, he upped his game. Scourge managed to waste eighteen criminals in one hit, which took place during a meeting of bad guys on how to deal with the Scourge — problem solved!
The thing about the original Scourge (There would be more over the years) is that his identity was never revealed. He showed up, massacred a bunch of bad guys, and disappeared without a trace.
It's possible he may show up someday in the future, should the Marvel Universe be flush with low-level villains again, but it seems unlikely that his identity will ever be revealed.