10 Comics That Told Inspiring Mental Health Stories
9. Green Lanterns: Family Matters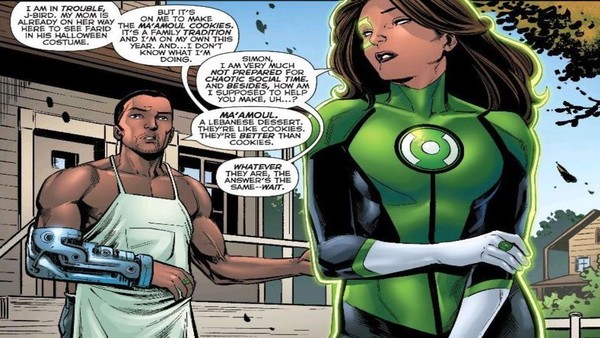 The Green Lantern Corps feature characters with tremendous willpower and inner strength. But that doesn't mean all of them are immune to self-doubt. Jessica Cruz is a Green Lantern who suffers from anxiety attacks. Sometimes, her anxiety is so bad that it stops her from getting out of bed, which shows how stressful the disorder can be.
Jessica fights to manage her condition every day, and it helps that she has a partner like Simon Baz to talk to. Green Lanterns: Family Matters does an excellent job of showing the importance of Baz and Jessica's relationship in a mental health context.
In the story, Baz invites Jessica over for dinner to meet his family. At first, Jessica's anxiety kicks in and she looks for ways to get out of the situation. Baz convinces her to join him in cooking a Lebanese dessert called Ma'Amoul.
Jessica's appreciation for food compels her to ignore her anxiety long enough to meet Baz's family and bond with them. It's a small victory for Jessica in the war she has with her condition.
Green Lanterns: Family Matters is full of touching moments that can help anxiety sufferers realise that they aren't alone.