10 Insane Alternate Versions Of The Joker You Won't Believe Exist
Proving that everything is better with pirates.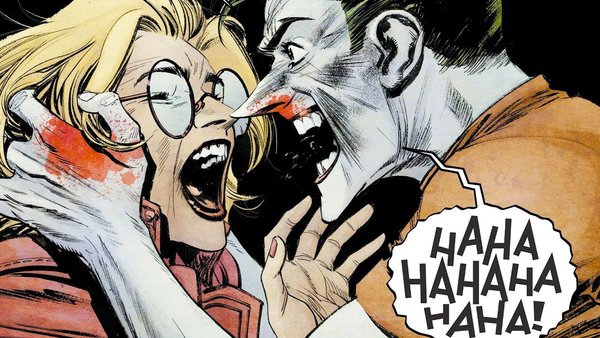 We live in an age where we are almost spoilt for choice on cool versions of the Joker. He's been a pirate, he's been an animal, he's been a dragon - name anything under the sun, and there's probably a universe where the Joker briefly appeared as the thing you're thinking of at least once.
While this is undeniably awesome, it does also mean that sometimes it's difficult knowing where to find the wildest versions of the Clown Prince of Crime, as there are almost too many comics to choose from.
And given the jester is so unpredictable in the first place, it's even more difficult to find alternate versions where he's more intense than he usually is, which is doubly true, ever since he cut his face off during the New 52.
But for those willing to look, there happens to be a treasure trove of bizarre, brutal and badass versions of the Joker, tailor-made to emphasise whatever you like about the character. And with a naked, fortune-telling cyborg Joker being one of his less weird alternate selves, it's safe to say that when it comes to messed up clowns, the main DC universe ain't seen nothing yet.
10. The Joker Dragon - Dark Nights: Metal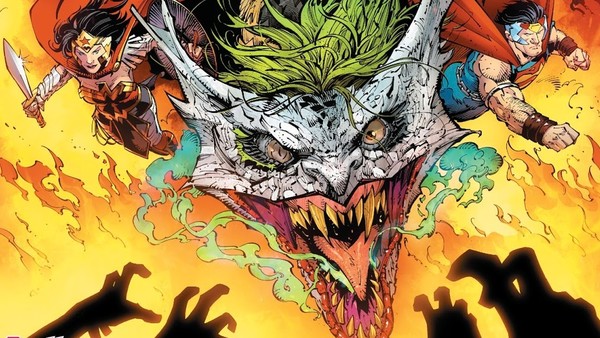 When the Dark Night: Metal series promoted its release with Batman riding a dragon-esque version of the Joker, it was hard to resist the urge to ring the nearest comic store and order every single copy of the comic that they had in stock.
It should feel kind of cheesy - after all, villains have been transforming into dragons roughly as long as we've had villains - but through luck or by the talents of Scott Snyder and Greg Capullo, the villain is decidedly terrifying in this form instead.
With all this initial hype, it was slightly cruel that our first proper look at the Joker Dragons was in the sixth issue of the series, but given that it did involve the Dark Knight successfully defeating and then taming one of the beasts to use as a mode of transport, you can't stay mad for all that long.
Although for some people it was likely a little over the top, seeing the Joker breathing poisonous gas as fire with a crazy green dragon-mane is one of those things that you have to love, even if you know it's not the world's most original concept.