10 Times Supervillains Quit
9. Mr Freeze Refuses To Escape Arkham - Arkham Manor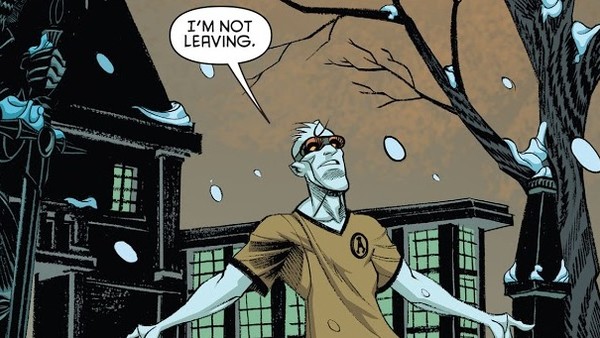 You spend your whole life fighting criminals on the streets, only to suddenly find that they've all moved in with you. At least, that's what happens to Bruce Wayne in the Arkham Manor story arc. His own home, Wayne Manor, is chosen as the new holding ground for the inmates of the recently destroyed Arkham Asylum. As if that's not bad enough, a series of murders forces Batman to go undercover and investigate his old homestead.

Growing an impressive moustache and calling himself Jack Shaw, he ends up recruiting the incarcerated Mr. Freeze to help him take down a seemingly Joker-ised version of Clayface. In return, he sets Mr. Freeze free from his cell, knowing that he can't compromise his secret identity and that Freeze would be relatively easy to capture again.
Thankfully, this isn't a concern. Once they get outside the manor, Freeze lays down on the ground and begins making snow angels. As it turns out, he has no intention to leave Arkham at all. He's happy to remain locked up for the rest of his life. Not because he feels he deserves it after the atrocities he'd committed, but simply because he has "nowhere to go."
How very respectable and very, very sad.
Jimmy Kavanagh
Jimmy Kavanagh is an Irish comics enthusiast and co-founder of Club Valentine Comedy, a Dublin-based comedy collective. You can hear him talk to his favourite comedians about their favourite comics on his podcast, Comics Swapping Comics (available on all good podcast platforms).
See more from Jimmy