Dark Nights - Batman: The Murder Machine #1 Review
Honestly DC, you had us at the cover.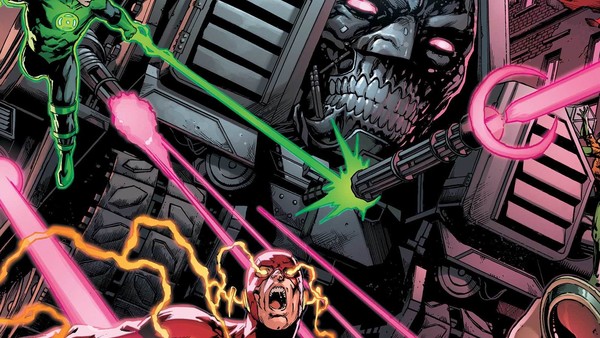 Rating:˜…˜…˜… ★★★★

Dark Nights Metal has fast become the comics event of the summer, with Scott Snyder and Greg Capullo having taken Batman on a wild inter-dimensional ride that follows in the footsteps of classic Crises of old. It's Bat-s**t insane, and we love it all the more because of it.
Like all events, however, Dark Nights will be receiving a hefty dose of tie-ins, the first coming in the form of Batman: The Murder Machine, written by Frank Tieri and James Tynion IV. Here, Cyborg takes centre stage as he dukes it out with the Cyborg Batman of the Metalverse, and it's pretty gruesome, to say the least.
Sad to say that the amazing looking Bat-terminator tank... thing, doesn't make an appearance in the book, but there's plenty of heart and character to make up for it. The origin of the Cyborg Batman is handled particularly well, with Tieri and Tynion depicting a universe where Alfred - murdered by a group of Batman's rogues - takes on a new life as an AI to assist Bruce. Things don't go according to plan however, and before you know it, the evil Alfred assimilates Bruce into an evil cybernetic Batman, intent on transforming Detroit into a terrifying dystopia - the kind you tend to see on Meat Loaf album covers, or in post-apocalyptic James Cameron sci-fi.
It makes for grim reading at times, with artist Riccardo Federici pulling no punches when it comes to depicting some of the issue's darker moments. It's an enjoyable read however, and one that, unlike tie-in titles of old, truly compliments the main Dark Nights series. You don't have to read it by any means, but it serves as a fun enough look into the Metalverse Snyder and Capullo have crafted in the first few issues of their series thus far.
Final Thoughts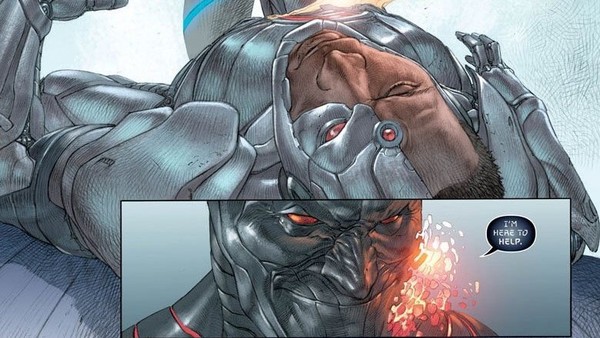 Batman: The Murder Machine isn't an essential read by any stretch of the imagination, but - as far as tie-ins go - it's a thoroughly enjoyable one. If you've found your interest piqued by the main Snyder-Capullo series, Murder Machine is the perfect instrument to scratch that itch, typifying everything a good tie-in should be without stepping on the toes of the main series itself.
As for the ending? Well, it's become well and truly apparent these past few weeks that the Batman Who Laughs is just about the most terrifying creation in Bat-history, and the way he closes out the issue is about as sinister as things can get, really.
Time will only tell how Dark Nights impacts the DCU going forward, but if the Murder Machine is anything to go by, then it holds some pretty massive changes in store. Be sure to keep the next tie-in, Batman: The Dawnbreaker, firmly on your radar.
Create Content and Get Paid
---