Marvel Assemble Some Supernatural Avengers In Spirits Of Vengeance #1
Ghost Rider and Blade sharing a book should work, but has it payed off on this occasion?
Spirits of Vengeance #1 Review
Rating:˜…˜…˜… ★★★
Of all the solicitations that released for Marvel Legacy, Spirits of Vengeance #1 felt like one of the most exciting and unique ones out there. It's been ages since we last saw Blade take a starring role in a comics series, and Marvel's supernatural elements as a whole have taken a backseat to the cosmic side of things for what feels like years now.
And, in many respects, DC have their rivals beat when it comes to their universe's horror elements. Constantine, Deadman, Zatanna and the rest of the Dark Justice League have long ensured that the Burbank bound publisher have maintained a steady presence in the genre, with many of the works featuring said characters being genre defining in their own separate ways.
Although characters like Ghost Rider and Blade - the two key figures from Spirits of Vengeance - are popular both on and off the page, their own respective bibliographies have never really reflected that. Marvelites have been starved for a truly genuine Blade comic for years now, and the Rider has only just found his with Robbie Reyes' tenure under the mantle.
Victor Gischler and David Baldeón's Spirits of Vengeance doesn't seem to be offering any indication that it's going anywhere either, despite a solid premise that should, in theory, be the perfect vehicle to mount a supernatural return for the Marvel Universe. Also Robbie Reyes isn't involved, what's up with that?
Final Thoughts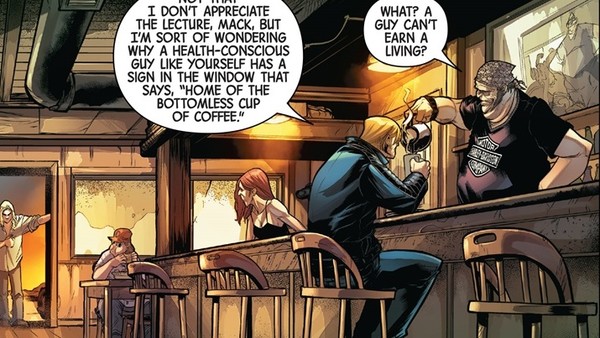 Despite assembling a truly fearsome team comprised of Marvel's most popular supernatural elements, there's nothing in this first issue that screams that it'll be the book Blade and Ghost Rider fans are after. Daimon Hellstrom takes centre stage for most of the issue, and Blade doesn't make his debut until its final sequence.
Everything about the book just feels familiar, and not in the good 'fresh but old' vibe Legacy has strived for (and mostly achieved) thus far. It's just a bunch of supernatural heroes coming together to avert another world-ending event, but even then the issue lacks urgency, even if Gischler's irreverent approach to the material works to some degree.
Johnny Blaze also feels like nothing more than a cosmetic accompaniment to the team right now, and even then he's rocking the Dan Ketch outfit. The aforementioned Hellstrom doesn't bring anything to the table, and while the series owns its cartoony aesthetic, there's little here to convince fans of the Rider and/or Blade that it's a team book worth investing in.
What did you think of Spirits of Vengeance #1? Let us know in the comments below!
Want to write about Marvel Comics, Spirits of Vengeance, Ghost-Rider and Blade? Get started below...
Create Content and Get Paid
---
Ewan Paterson
WhatCulture's very own Comics Editor. Cats, comic books and spaghetti westerns are my thing. Rants about stuff @EwanRuinsThings
See more from Ewan