New Hellblazer Series Completes A Plotline Neil Gaiman Established In 1991
Constantine is going back to his roots, wrapping up the original Books of Magic story arc.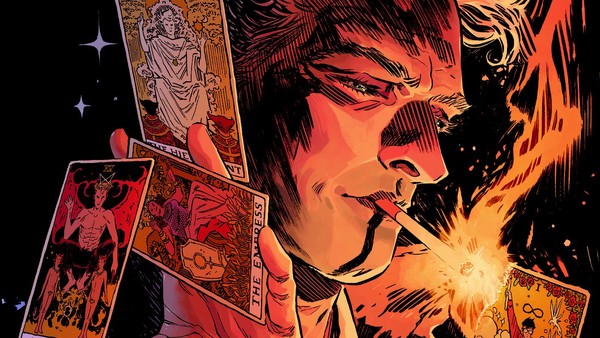 Remember that series about a 12-year-old bespectacled British boy who's destined to become the world's greatest wizard? You know the story. He's taught the ways of magic by older mages until one of them betrays him and tries to kill him.
I'm talking about Books of Magic from DC Comics, of course.
The original four-part Books of Magic miniseries about the adolescent Timothy Hunter by Neil Gaiman ended in 1991, and featured The Laughing Magician himself, John Constantine, as one of the mages showing Tim the magical ropes.
In the final issue of that miniseries, Mr. E (who argued that Hunter was dangerous, and should be killed the moment the older mages discovered him) takes Tim to the future, where they encounter a bloodied and beaten Constantine in the midst of "the final magical conflict of [that] age," and John tells them "E had the right idea." and that he should have strangled Tim himself.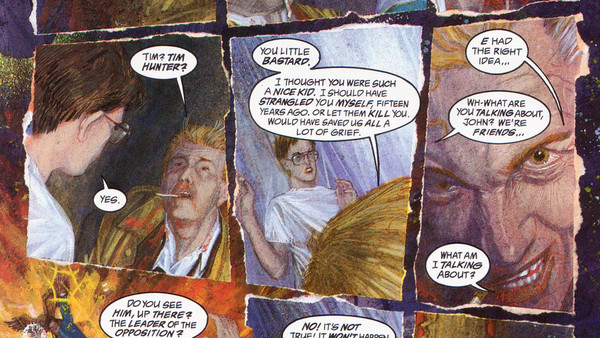 It turns out, in the future, Tim Hunter leads all the malevolent arcane and infernal forces in a war against the heroes of Earth. Of course, this was confirmed immediately afterward to be just one of infinite possible futures, and it was of course averted.
Until now.
DC recently previewed the first few pages of the upcoming Hellblazer series which launches later this month, and in addition to its beautiful art, and the exciting return to form for Johnny Conjob, the specific events and dialogue in the preview are notable for how unmistakably familiar they are.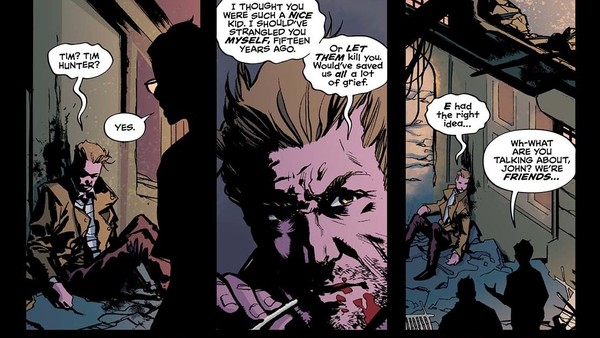 The "darkest timeline" version of the future seen in the original Books of Magic story is the definitive present timeline of the new Hellblazer series, and we're seeing it from Constantine's perspective now. This is particularly interesting since the first time around, Tim grew to adulthood in the subsequent Names of Magic series, and these events never took place.
The strangest part about this timeline of events is that when Mr. E showed Tim his ominous future, he said it would take place fifteen years later. That was in 1991. In 2006 (fifteen years later), DC concluded the Day of Vengeance story with Nabu stating that his death marked the end of the Tenth Age of Magic. Timothy Hunter wasn't involved in that conflict, though, which seemed to confirm that he'd changed his path.
It's doubtful that the Day of Vengeance writers were knowingly alluding to the events foreshadowed in Books of Magic by depicting a similar event leading to similar results, within the exact time frame Gaiman established... that's just a crazy coincidence. This time around, however, there's no denying that Si Spurrier is writing Hellblazer with Books of Magic in mind.
--
Are you excited to see Tim Hunter return? Let us know in the comments!
DC Comics Quiz: How Well Do You Know John Constantine?
1. Alan Moore Based Constantine's Look On Which Artist?
We need more writers about Hellblazer and DC Comics! Get started below...
Create Content and Get Paid
---