The New Black, Female Iron Man Should Be Celebrated, Not Hated
The backlash against Riri Williams only confirms just how toxic geek culture can be.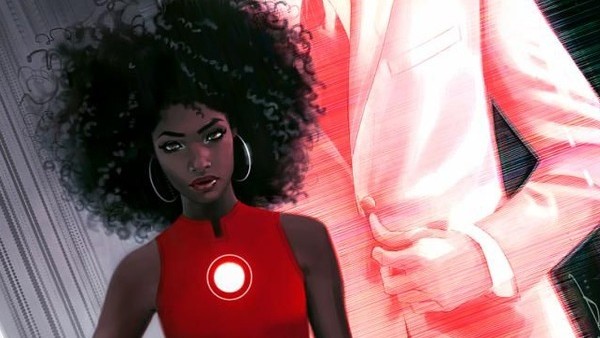 If you've been hiding under a rock for the past day or two, you're probably unaware that Brian Michael Bendis - the visionary behind such stellar runs on Daredevil, Ultimate Spider-Man and Jessica Jones - let slip that Tony Stark would be retiring the Iron Man armour for the foreseeable future. In his place will come Riri Williams - a 15 year old black girl who first came to the attention of the millionaire when she built her own set of armour in an M.I.T dorm room.
Firstly, this is awesome. Women of colour are vastly underrepresented in the comic book medium and, as you would know if you'd been keeping up with Bendis's current run on the armoured Avenger, Williams is a brilliant character. Fan reactions, however, have varied greatly to say the least.
Speaking to Time Magazine, Bendis posited that the most vocal detractors of Marvel's current drive for a more representative medium, probably don't "even realise how racist they sound." Which is true (though ignorance is never a defence for malignant bigotry), but I digress, as Marvel is currently knocking it out of the park when it comes to diversifying their once (mainly) white catalogue of superheroes.
What's so great about Riri however, is really the fact that it gives certain fans an opportunity to see themselves reflected in their favourite medium. The fact that those delighted by the announcement withhold their praise out of fear of online reprisal is, quite simply, heartbreaking.
As for actual people of colour working at Marvel, numbers are far less encouraging. Sure, we currently have the legendary Ta-Nehsi Coates writing the best damn Black Panther storyline for decades, but it is true that many of Marvel's creative teams are, predominantly, comprised of white men.
Despite these issues, It's really encouraging to see the company remain steadfast in its commitment to creating a truly representative universe.
--
What do you think of the new Iron Man? And what of the surrounding controversy? Have you say down in the comments.