Star Trek's 10 Most Iconic English Villains
9. Robin Sachs - General Valen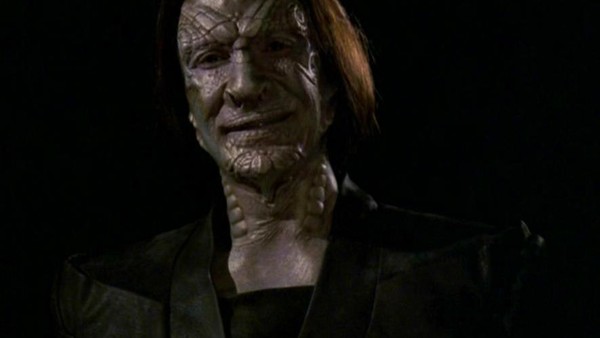 Whilst there are several ways actors were able to get roles in Star Trek, the route taken by Robin Sachs is surely a unique one. Best known to audiences as the devilishly manipulative Ethan Rayne in Buffy the Vampire Slayer, and having played four separate characters throughout the run of Babylon 5, in 1999 Sachs was cast as General Sarris, alien villain in the ultimate sci-fi - specifically Star Trek - parody, Galaxy Quest.
His actual Star Trek role came just one year later in the Voyager episode The Void. When the intrepid Starfleet explorers find themselves trapped in a region of space where it's a dog eat dog tale of survival, General Valen is quick to come to their rescue, and also to offer first hand experience of what to expect.
First hand in the sense that he has no qualms about dealing it out himself, that is. No one is surprised when supplies stolen from Voyager are found on his ship, and his nonchalance of their origins soon expands to outright attacks on what he considers to be weaker prey.
Underestimating Janeway's commitment to her principles as much as the ship she commands, he scoffs her idea of forming an alliance in order to escape the void through co-operation. This becomes his undoing when he is ultimately left to watch as Voyager and friends are able to escape the barren wilderness, with Valen doomed to spend the rest of his days plundering the barest of essentials just to survive.