At The Gates Interview: Swedish Death Metal, Bloodstock Festival & To Drink From The Night Itself
Tomas Lindberg unravels the conceptual genius of his band's latest album.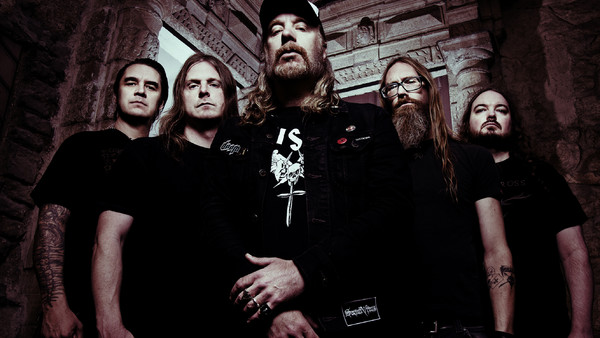 On October 3rd, 1995, the face of extreme music was transformed forever. That was the day that, from the beating heart of the then-burgeoning Gothenburg metal scene, the anarchic aggressors At the Gates unveiled their lauded fourth disc, Slaughter of the Soul.
Packing eleven tightknit anthems into only 34 minutes, the magnum opus quickly became the new standard-bearer for contemporary heaviness with its succinct brutality, totally opposing the more pop- and punk-inclined angst of grunge and nu metal on the other side of the Atlantic. It also marked the first of many head-turning bullseyes for the Swedish melodic death metal movement, soon to be joined by Dark Tranquillity's The Gallery and In Flames' The Jester Race.
23 years later, the furious methodology that spawned Slaughter of the Soul is still bringing At the Gates to new heights. Despite a lengthy hiatus during the 2000s, the quintet are currently flying high off of consecutive successes with 2014's At War with Reality and the brand new To Drink from the Night Itself.
To try and explore the Swedish mavens' continuingly destructive yet hook-laden mastery, I sat down with frontman Tomas Lindberg before his band's ferocious set at Derbyshire's Bloodstock Festival.
Matt Mills: "I want to start with a really simple question: why are At the Gates so f—king good?"
Tomas Lindberg: "Ha! I don't know if we are, we just try hard. What I believe is that we care a lot and everything means a lot to us. We really want people to feel that this is important to us: that's just our attitude."
"Obviously you're playing the Ronnie James Dio stage of Bloodstock later on tonight. To those that haven't seen an At the Gates show before, what should they expect?"
"Intensity and urgency. And there's a lot of interaction with the crowd, a lot of closeness to the crowd, and today we're focusing on probably the last three albums [Slaughter of the Soul, At War with Reality and To Drink from the Night Itself] more. But we're only playing sixty minutes, so you'll have to come back for some headline shows to see the full thing."
"It feels like the modern At the Gates sound was very much refined on Slaughter of the Soul in 1995. Is that the quintessential At the Gates album?"
"For us, that album is actually the most one-dimensional we ever did. All the albums before and after that have a wider emotional palette, whereas Slaughter of the Soul is thirty minutes of just pure anguish and anger. We only did that once. A lot of the sound that we created on that one we went back to a little bit, but we incorporated the emotion of the earlier material. I think that the last two records have the full range of At the Gates, but then all our albums sound different and that's something we're proud of."
"And the new album, To Drink from the Night Itself, came out earlier this year. What does it mean to drink from the night itself?"
"It works on a lot of different levels, that title. The whole album is all about the importance of art in general. The easiest way to describe it is that 'To Drink from the Night Itself' is a metaphor for the creative process: channelling very dark and intense emotions through yourself and to the listener. But then it has a lot of sub-levels to it."
"Would you call To Drink from the Night Itself a concept album?"
"Definitely. It's based on a novel by Peter Weiss called The Aesthetics of Resistance. I just felt that I wanted to create the same kind of atmosphere and touch on the same kind of emotional subjects that he was in his book. Of course, it's a thousand pages long and we only have ten songs, but it's just trying to approach it from the same angle."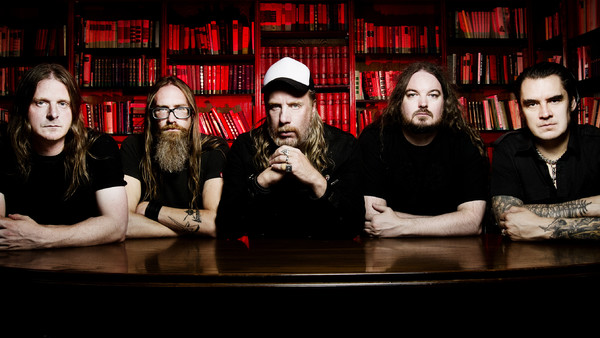 "And this is the first At the Gates album without Anders Björler on guitar. How difficult was it to move on without him?"
"Anders, I don't want to downplay his importance to the band. Everybody knows how integral a part he's been. But, for us, after the last show we did with Anders on the At War with Reality tour, he basically said that he wanted to take a break and he asked if we can do that: 'Can we have a break and then I will see how I feel.' We were stuck in a vortex: we wanted to do stuff but couldn't without him. So when he actually said 'You guys can move on without me,' that was almost like a relief. It's not a relief to see Anders go, definitely not, but it's better than not knowing, so we could actually write the album. Me and Jonas [Björler, bass] started writing the day after."
"There was a four-year gap between At War with Reality and To Drink from the Night Itself. Will it take another four years for there to be a next album?"
"Hopefully not. We toured the album for almost two years and then we had that gap that we talked about where Anders left, so that's two-and-a-half years there. The writing and the recording of the album was only one-and-a-half years, so we're thinking of starting writing earlier for the next one and writing during tours. We already have some ideas of where we wanna take it."
"So a new concept has been thrown around between the band members?"
"Definitely. Right now, we're a very excited band."
"I want to finish off by taking things a little wider and talking about the Swedish death metal scene as a whole. Obviously At the Gates are a cornerstone of that scene…"
"One of them."
"So what was that scene like when At the Gates were starting out and is there still a scene there today?"
"It was very, very small. You can't compare it at all as it was pre-internet and everything. Basically you were pen pals with all the other Swedish bands and you met in the summers when you had school holidays. It was very, very small and very intimate, but, nowadays, the possibility for bands is amazingly good. I think it's a good thing, but they don't really need that underground thing anymore. Of course people still have scenes in different cities and hang out, but the whole Swedish thing – there's still an underground but the situation is not as desperate as it was for us."
To Drink from the Night Itself is out now via Century Media Records. Read more about it in our "Best Metal Albums of May 2018" list.
At the Gates will tour the UK with Behemoth in February.
Read more about this year's Bloodstock Festival in our "10 Things We Learnt at Bloodstock 2018" list.
Create Content and Get Paid
---