10 Awesome Wrestlers Who Had Terrible Managers
8. Shawn Michaels (José Lothario)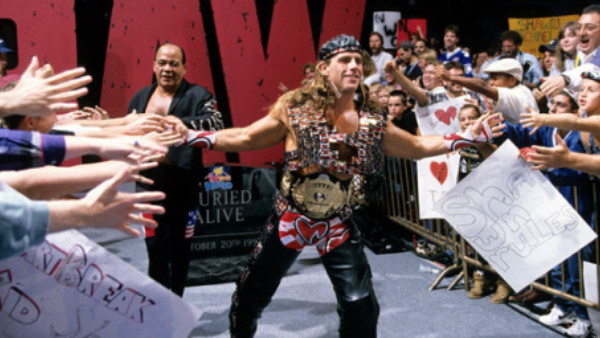 After Shawn Michaels realised his 'boyhood dream' of becoming WWF Champion at the climax of WrestleMania XII, he brusquely instructed Earl Hebner to "get that piece of sh*t out of the ring". More than likely, he was referring to beaten opponent and perennial rival Bret Hart, but the Heartbreak Kid could have easily been talking about his manager José Lothario, such was the contempt in which he held his mentor's unnecessary intrusion on his career-defining arc.
In 1996, Michaels was being groomed as the centrepiece of WWE, but Vince McMahon - despite growing hot under the collar and moist in the trousers whenever he locked eyes on his 'Sexy Boy' - didn't feel the erstwhile egotist was quite sympathetic enough to his audience. So ahead of his tilt against 'The Hitman' in Anaheim, HBK was lumped with his 61-year-old trainer Lothario - a man almost the very antithesis of Michaels' embodiment of the 'New Generation'.
For a single match, it made some sense, but for whatever reason, the partnership persisted beyond WrestleMania. More often than not, Lothario was an on-screen hassle for Shawn, an additional source of vulnerability in the champ's already mismatched title defences. Behind the scenes, José was likely an impediment to the former Rocker's rock 'n' roll lifestyle - no doubt, that was part of the point.
Lothario made his final appearance by Michaels' side at Royal Rumble '97. A month after losing his useless manager, he infamously lost his smile. Perhaps he wasn't as useless as he thought.