10 Awesome Wrestlers Who Had Terrible Managers
6. Steve Austin (Colonel Robert Parker)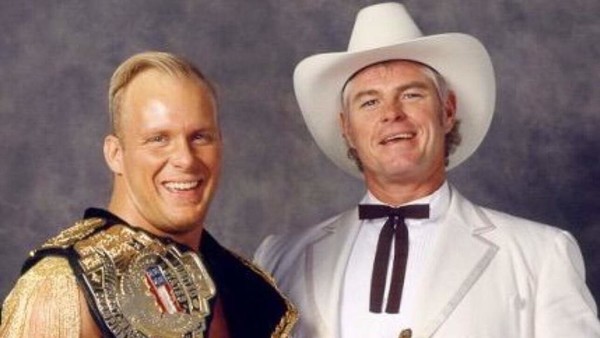 From one stable of studs to another. Austin, having shaken off Veronica and blossomed beyond Lady Blossom, found himself in very beneficial company as part of Dangerous Alliance, notably keeping a tight grip on WCW's Television Title whilst under Paul Heyman's purview. When the Alliance disbanded, Austin didn't take long to find new friends, buddying up with Brian Pillman as one half of the Hollywood Blondes.
Unfortunately for Flyin' Brian, 'Stunning' Steve couldn't tame his wandering eye whilst his partner was nursing an injury, and in his absence, aligned with Colonel Robert Parker's Stud Stable. Though the Colonel was a decent manager, he was yet another albatross Austin didn't need. The budding star could already cut a killer promo without the aid of the incongruous Tom Parker knock-off, but for whatever reason, WCW simply didn't see it.
It was the company's lack of faith which convinced Austin to give Eric Bischoff what'd become his trademark middle finger when he was fired in 1995. Behind the scenes, Parker had one last piece of terrible management under his stetson, insisting his charge was making a mistake burning his WCW bridges. Years later, the pair reconnected backstage in WWE, where Austin told the locker room, "You know, Col. He's got all his stuff together. He's got everything. But, don't let him handle your money!"