10 Awful WWE Gimmicks Which Somehow Became Awesome
9. Otis - Lovesick Puppy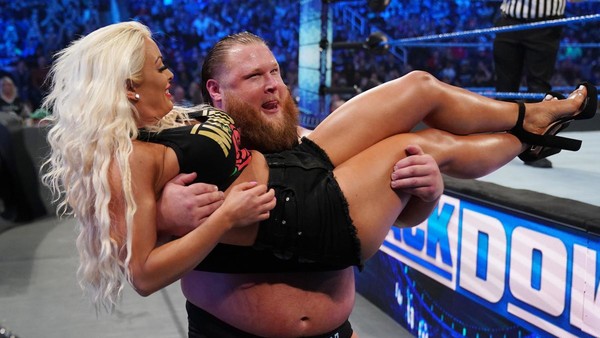 Throughout 2019, Otis & Tucker of Heavy Machinery firmly established themselves as a reliable, light-hearted, main roster tag team who seemed destined to simply provide blue-collar comic relief and not much else for the duration of their time in WWE.
Even when Otis suddenly found himself involved in a fledgeling love storyline with Fire & Desire's Mandy Rose, it felt like this was all leading to the lovesick puppy getting his heartbroken and becoming the butt of a very cruel Vince McMahon joke.
However, once Otis and Mandy got through the rough early stages of this programme, something unexpected happened. Instead of having Rose announce that she was using Otis to win matches, it was revealed that Dolph Ziggler and Sonya Deville had actually been conspiring to ruin the pair's romance. This then led to the loveable ham-eating star finding a new gear as a p*ssed off ass-kicker, taking out his frustrations on Ziggler at WrestleMania 36 and sharing a kiss with his darling 'peach' post-victory.
If that wasn't enough, Otis' new-found popularity then led to him winning the Money in the Bank ladder match. What started out as a cringey obsessive gimmick has now blossomed into Otis being one of the most popular babyfaces on the roster, and he now carries around a World Championship shot in his lunchbox.
Who saw that coming?