10 Things WWE Wants You To Forget About WrestleMania 37
Welcome to WrestleMania! Please don't mention ex-WWE superstar CM Punk or boo the legends.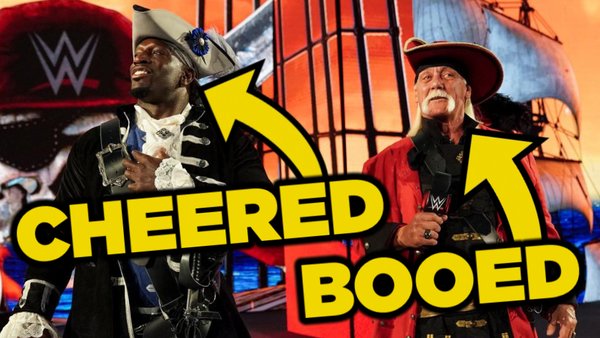 No wrestling pay-per-view is ever perfect.
WrestleMania 37, despite the legacy and super-sized hype that came with it, was no different. WWE will look back on the two-night event and view parts of it as a raging success, and rightfully so. Overall, 'Mania 2021 was a fun weekender that played in front of rowdy live fans for the first time in over a year.
The company crowned new champions, made even more history for women, battled back against the elements to light up the Tampa sky with endless bursts of colourful fireworks, and yet...there's still so much Vince McMahon would want people to forget about his latest extravaganza.
This year's "Showcase Of The Immortals" didn't go off without a hitch - in fact, it suffered from some pre-show niggles that threatened to thwart it completely before WWE even rolled into Raymond James Stadium. Come go time, some questionable booking decisions blighted the landscape, and the thousands in attendance across both nights refused to play along with WWE's bid to blend retro favourites with the current roster.
Here's everything McMahon and crew want you to forget about the latest 'Mania...
10. The Weather Problems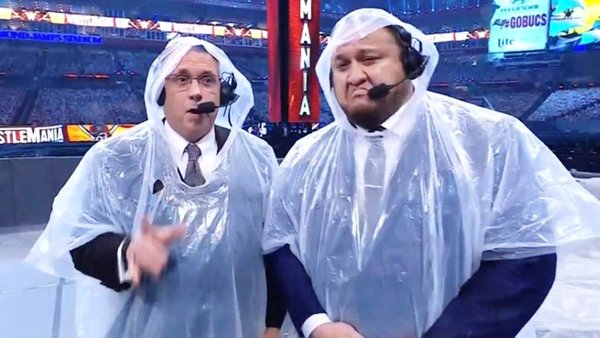 Vinnie Mac controls everything about WWE, but he can't control the weather.
Storms raged over Tampa's skyline amidst a soggy Saturday night, and that waylaid company plans to start WrestleMania as scheduled. The sight of poncho-wearing announcers like Michael Cole and Samoa Joe throwing to unscripted promos in the back was wonderfully chaotic, but it must've had the boss tearing his hair out.
Backstage interviews with the likes of Shane McMahon, New Day, MVP, Bobby Lashley, Drew McIntyre and more had a late-80s feel to them somehow. WWE's cast were forced to think on their feet and stall for time - again, one can picture an irate McMahon stalking the hallways and cursing the Gods for delaying the biggest show of the year.
Over time, WWE will phase out all talk of stuttering starts or weather warnings. 'Mania 37 will be discussed in glowing terms as the "best ever", and that's that. Fans can bank on it.