10 Wrestlers That Knew They Were Saying Something Stupid As They Said It
10. Bret Hart Speaks The Tooth, The Whole Tooth And Nothing But The Tooth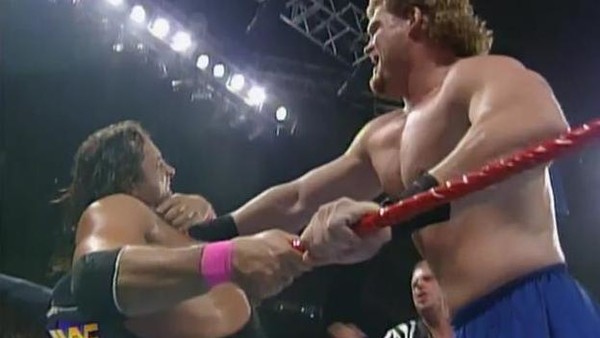 Bret Hart's the best.
"...there is, was and ever will be" was the catchphrase, but like everything else he did, it was real. He respected professional wrestling as an art form, a sport and a business and knew how those three pillars informed one another. It's a crime mainstream America didn't buy into the overall product when he was atop it - the figures simply don't tell the full story of his stewardship over a smaller but perfectly formed hardcore audience still investing in a product without Hulk Hogan, Randy Savage et al.
Art form, sport, business. Sometimes he had to dance with a dentist, make it look like a fight, and sell tickets and pay-per-views. What chance did he really have?
"Issac Yankem, Jerry Lawler...you're both the tartar and the abscess of the World Wrestling Federation and tonight, I'm gonna be your personal hygienist" he'd say, whilst clenching his fist and waving it. "The Hitman is gonna perform oral surgery on you with two of the most dangerous tools in the World Wrestling Federation" he'd say, whilst clenching both fists and waving them. "You big tooth fairy!" he'd say, whilst clenching his whole body and waving goodbye to a bit more credibility.
Frustrated wasn't the g*ddamn word for it. That was bullsh*t.
Michael Hamflett
We Need To Talk About Kevin (Nash). Michael can be found in articles or on podcasts extolling the virtues of New Generation WWF, New Japan Pro Wrestling or the new WWE angle they definitely definitely won't ruin this time.
See more from Michael