10 Wrestlers Who Refused Huge Matches
9. Mick Foley Took Retirement Too Seriously To Face The Boss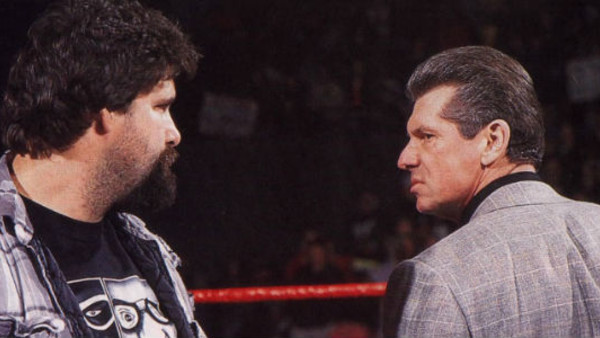 Many wrestling fans, quite rightly, hold WrestleMania X-Seven up as the absolute finest iteration of WWE's biggest annual event. However, there was very nearly another no-doubt stellar addition to this already stacked card. But, as Mick Foley revealed later down the road, those plans were scrapped due to his refusal to step out of retirement.
The match in question would've seen Foley going one-on-one with Mr. McMahon. Despite it very much looking like the former Cactus Jack was set to return from being 'fired' by Vinnie Mac in December 2000 to face the big bad boss at 'Mania, Foley was hellbent on sticking to the retirement stipulation that came into play after losing to Triple H at No Way Out.
He also didn't think it made sense for him to return and demand his job back in the storyline as it was McMahon's company and he had every right to fire whoever he wanted. All in all, Mrs Foley's Baby Boy admitted that he perhaps was overthinking the whole thing. These apparent storyline "holes" ultimately meant that we were forced to witness an all-McMahon father-son war, with Foley acting as the special guest ref instead.