5 Ups & 4 Downs From WWE SmackDown (May 26)
Jimmy Uso = "Tribal Chief"?! WWE's last SmackDown stop before Night Of Champions.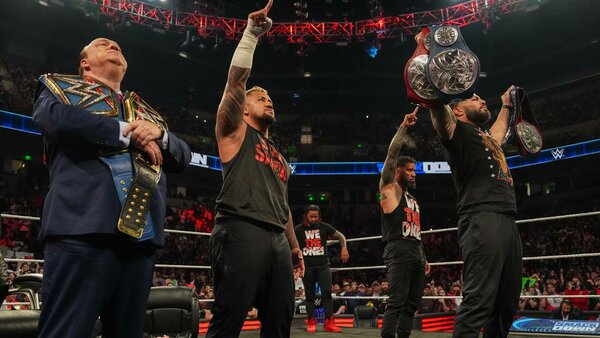 Pre-taped episodes of SmackDown are an unavoidable nuisance for WWE's creative team. The cast and crew are already over in Saudi Arabia for Saturday's Night Of Champions special, so WWE doubled up on blue brand goodness in South Carolina last week.
Shame the production team didn't help creative, eh?
This 'already in the can' edition did have some banner moments though. Roman Reigns and Jimmy Uso, in particular, set up more Bloodline drama to come at NOC and during next week's 1000 day celebration shindig in honour of the 'Tribal Chief'. Who is the 'Chief' though? Well, according to Jimmy, it ain't Roman.
Friday's show wasn't exactly essential (it'll largely be forgotten about by the time WWE goes live over in Saudi), but it did have some cracking wrestling on it and a few tasty story beats. That Bloodline business wasn't the only plus point either - AJ Styles, Austin Theory, Sheamus and others produced some fun too.
Sadly, the women's side of things is still lacking, and who knows what the writers are thinking with this LA Knight vs. The Street Profits business.
Here's all the good and bad from NOC's 'go home' Smackers!