6 Ups & 3 Downs From WWE SmackDown (June 24)
Drew McIntyre and Sheamus join forces; MITB madness; Ronda Rousey fights...herself?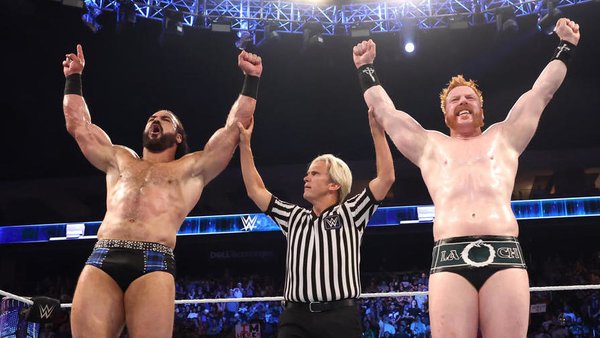 WWE went round in a creative circle on the latest episode of SmackDown.
Look, that's sometimes understandable. This creative team has five hours of content to fill weekly, and that's only if one doesn't take NXT 2.0 into account on top of Raw and SmackDown. The burnout these writers must feel means they get a pass for un-booking then re-booking the same result on Friday night.
They don't get a pass for some of the other goofy bullsh*t that took place though, especially in the women's division. Christ, the ladies don't have much to shout about on this show these days, do they? WWE's attempt at comedy mind games was a miss, and some of the other main female characters are struggling big time.
On the plus side, Pat McAfee showed the way by cutting a fine promo, and a male champion not-named Roman Reigns (oh yes!) looks very strong. That's a step in the right direction for the brand. Speaking of which, the tag ranks got a fresh overhaul by way of one duo's long overdue turn.
Here's all the good and bad from the latest SmackDown en route to July's big Money In The Bank and SummerSlam pay-per-views.