7 Match Star Ratings For WWE Money In The Bank 2021
Edge and Roman Reigns go too long, but the best MITB match in years kicks all sorts of ass.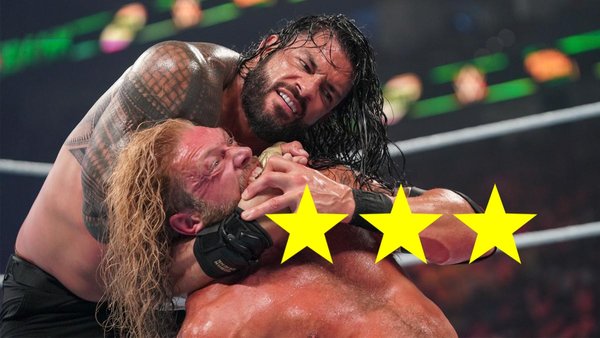 The build, like the build to every WWE pay-per-view, sucked absolute sh*t.
That's not entirely fair. The Roman Reigns Vs. Edge storyline wasn't appalling. Edge's delivery was tremendous - it's Edge - and the hook selling fans on the match at least convinced those fans that he had a chance. This isolated footage of Roman's panic combined with his scraggly appearance and unhinged eyes cast Edge as more stark raving lunatic than vengeful babyface badass, but it worked because he has real, major league intensity.
Elsewhere, f*ck.
Charlotte Flair and Rhea Ripley feuded, still, over who the biggest d*ckhead is. What an atrocious way to welcome back fans. You'd expect a competent company to get the audience to like somebody, so that the audience could do things like "cheer them" and "create a lively atmosphere".
But WWE is not a competent company.
If WWE were a competent a company, we wouldn't have been subjected to Ricochet spelling out his name with a quasi-bar before being squirted with water by The Miz. We wouldn't have had to endure AJ Styles feuding with the Viking Raiders over foodstuffs. We wouldn't have to sit and wonder why the f*ck Liv Morgan, a regular winner on television, lost a Money In The Bank match place to the woman she defeated. Twice.
WWE is bad, but did the return of fans make a blind bit of difference?
7. KICK-OFF: Rey & Dominik Mysterio Vs. The Usos - SmackDown Tag Team Title Match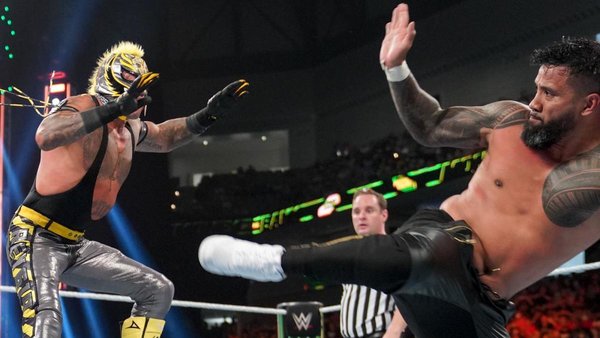 Formulaic and not blow-away great, Rey & Dominik Mysterio Vs. The Usos was nonetheless pitched very well to start the show without exhausting the crowd.
Dominik is still fundamentally sound for his level of experience without being particularly fired-up or charismatic about things, but his early shine looked good enough, one whiffed dropkick aside. He later re-entered the ring to make the comeback and undermined that last sentence by landing a weak and mistimed springboard crossbody. He sold getting blasted into the barricade for the cut-off quite well, though not well enough to warrant Pat McAfee's assertion that he is a "prodigy".
The ageless Rey Mysterio was on typically ace form. Everything he did was struck so crisply and with such head-spinning aplomb that his comeback elevated the atmosphere from polite to hot; his creative, convoluted yet seamless sequences elicited the volleying, guttural roars everybody has missed so desperately for so long.
This solid, patterned tag almost approached excellent with Rey fighting from underneath. Jimmy Uso probably shouldn't have been in the ring, but he took an unreal bump off the 619 to save his partner. It looked like his head almost came off. It looked awesome.
The match itself never really got there on the whole, not that it was at all bad. The finish however looked rather bad, or at least pointless. Jey assisted Jimmy's roll-up (!) pin by just gently placing his feet on his body.
No pressure looked to be applied whatsoever.
Star Rating: ★★★¼