7 Times WWE Had Mixed Gender Tag Matches at WrestleMania
The battle of the sexes has resulted in a fair share of WrestleMania moments.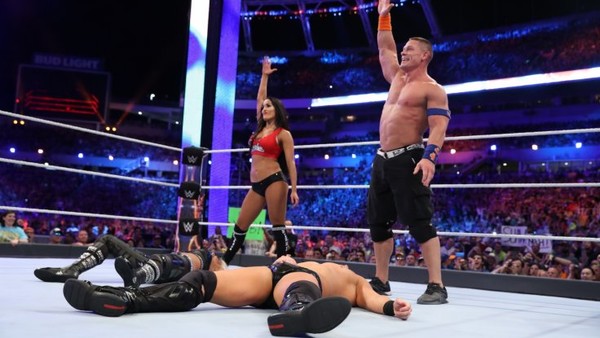 Well, it's not quite the Kurt Angle-Triple H match we were expecting a year ago, but it's close. This past Monday on RAW, one of the biggest matches for WrestleMania was made official when Kurt Angle sanctioned a mixed tag team match between himself and Ronda Rousey against Triple H and Stephanie McMahon.
This occasion will mark the 8th time in WrestleMania history a match has involved intergender competition. Mixed tags have been a gimmick in the company for nearly 30 years, and needless to say, they've varied greatly in quality and tone. Oftentimes, they're just a comedy bit or a distraction meant to cool the crowd down after a big match, and in most cases, they're the most expendable (such as at WrestleMania 29, when the Funkadactyls/Tons of Funk vs. Rhodes Scholars/Bellas match was cut from the show).
Still, there have been a few high profile mixed tags at the Show of Shows, featuring big names such as Randy Savage, Eddie Guerrero, Chyna, Trish Stratus, and John Cena of all people. This WrestleMania, Kurt/Rousey vs. Hunter and Steph will join the company of these (in)famous bouts.
7. Dusty Rhodes & Sapphire Vs. Randy Savage & Queen Sherri (WrestleMania VI)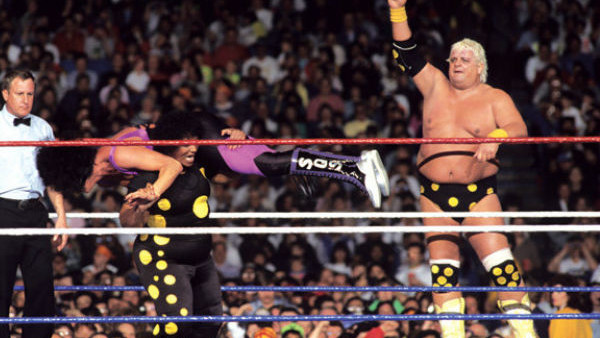 Not only was this the first mixed tag match at WrestleMania, but according to Howard Finkel's announcement, it was also the first mixed tag period in WWE history. I guess it's fitting then that the first match of its kind feature legends, as Dusty Rhodes and his valet Sapphire (with Miss Elizabeth in their corner) took on the Macho King Randy Savage and Queen Sherri Martel.
Given that Sherri was mainly a manager by this point, Dusty didn't do a lot in his normal matches, and Sapphire was just a fan who managed Dusty, the match itself was a great load of nothing. However, trying to comb out this era of WWE for quality matches by today's standards defeats the point of watching it. The fun of this match is the sheer personality that all the participants brought into it, including fantastic commentary by Gorilla Monsoon and Jesse Ventura. It was a silly, cartoonish soap opera, but you wouldn't want it any other way with Polka Dot era Dusty Rhodes and the Macho King Randy Savage.
Definitely for historical purposes, this match is worth seeking out, and even moreso for the classic-era goodness it has within.