Exclusive: 7 Behind The Scenes Details On WWE's 'Boneyard Match' At WrestleMania 36
1. Who Came Up With AJ's Hand Spot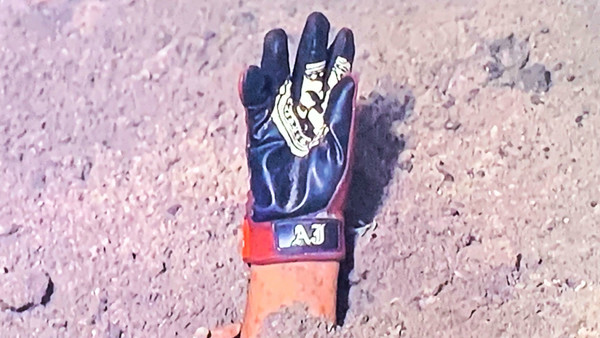 Earlier, Triple H and Michael Hayes had spotted a prop hand on location that they wanted to use at some point during the match. The only problem was that they didn't have any idea when it could come into play. 'Taker, meanwhile, did.
He was the one who pitched "AJ's hand" poking up through the dirt once he was buried underneath. It was reminiscent of 'Taker's own desperate bid for survival back at In Your House: Buried Alive in October 1996. You know the image - it's the one that has his purple-gloved digits poking through the soil towards freedom.
The Undertaker believed that'd be a nice touch for the production, and that was that. Upon closer inspection (like in the brightened-up pic accompanying this entry), it's obvious that the hand is fake. In real-time though, under the shroud of clever lighting tricks, it looked fantastic.
There you go. Trips and Hayes had found the phoney hand hours before and thought it'd be a fun idea, but it was 'Taker himself who thought to include a nod towards his own past as WrestleMania 36 went off the air.
What did you make of WrestleMania 36's 'Boneyard Match'? For more like this, check out 5 Culprits Who Could Be WWE SmackDown's Truth-Telling Glitch Hacker and 6 Ups & 7 Downs From WWE's Road To WrestleMania 36!