Hulk Hogan Wants WWE WrestleMania 31 Match
He's interested in facing Austin or Cena. Good luck with that, brother!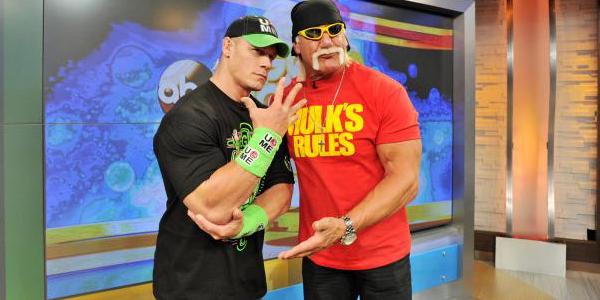 Hulk Hogan has done a lot of media appearances in the last few weeks for WWE to promote their WWE 2K15 video game, SummerSlam and everything else they've got going on. He's also talking about how he has a desire to have one more match with WrestleMania 31 as his target. Then again, there are so many older wrestlers that always have a desire to have "one more" WrestleMania match. Recent reports have noted that there's apparently there's nothing official in the works at this time. It's simply a case of Hogan trying to work his own angle or "going into business for himself" as they like to say in the wrestling business. Dave Meltzer of
F4WOnline.com
, who spoke to Hogan last week at the WWE 2K15 promotional event, noted that Hogan was hopeful of having a match with Steve Austin or John Cena at WrestleMania 31. It's no surprise that Hogan wants to have one more match although at 61 years old and with a number of back surgeries among other injuries over the years, it's tough to see it happening. He claims to be in great shape, but it would still be a risk for WWE. It would be a big payday for him since WrestleMania 31 will be attended by 75,000 people and it's the biggest show of the year. His last match in a WWE ring was SummerSlam 2006 against Randy Orton, so it would be nearly nine years between matches for him in WWE. He did wrestle a few matches in TNA and on his Hulkamania tour in the last five years. A matchup with Austin seems unlikely. Austin hasn't wrestled since 2003 and while he's said he might do it for the right storyline, a match with Hogan would be a bad idea. There would definitely be chemistry issues. The Hogan/Cena match almost happened in 2009 at WrestleMania 25, but Hogan's health issues prevented it from happening. A match in 2015 is a possibility although it might be a better idea to have Hogan team up with Cena against two heels. That way Hogan wouldn't have to work as much. Cena could get beat up for most of the match, then make the hot tag to Hogan and the crowd would go crazy for it. Tag matches aren't considered as big of a deal, but Hogan & Cena together is doable and it would prevent Hogan from having to bump too much. At this point we don't expect a Hogan match to happen although it's only August. He could end up convincing WWE to give him a shot for WrestleMania 31. You just never know. In other Hogan news, here is doing the ALS "Ice Bucket Challenge" that a lot of people are doing on social media. Of course he did a wrestling promo before it. https://www.youtube.com/watch?v=T62HE2xF2CE Good job, brother.
Create Content and Get Paid
---