Jon Moxley Responds To CM Punk, "Bulls*** Drama" In AEW
"I have never seen so much bulls*** drama in one place," says Jon Moxley of AEW.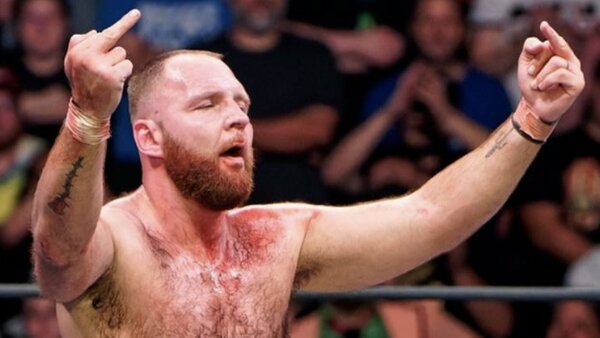 Jon Moxley has responded to CM Punk's Instagram post, "bulls*** drama" in AEW, and more, doing so in a new episode of Renée Paquette's The Sessions.
The episode, which was originally scheduled to be recorded last week before complications arose (per Paquette), began with Renée asking Moxley if he'd like to address the Punk situation, providing him with a spotlight to respond. This follows Punk alleging, in a since-deleted Instagram post, that Moxley had refused to lose to him, amongst other things
When asked if he'd like to respond, Moxley said:-
"No, 'cause nothing has unfolded. It's f***ing annoying. Just 'cause somebody said some stupid s**t on social media, like, that's not news… but it is, and it ends up being a thing. I don't want to get dragged into this dumb s***. I could f***ing unload on a lot of f***ing people right now. And when I start getting dragged into this, it tempts me to do that, but I'm not gonna f***ing sink to that level."
Continuing, Moxley noted that he was effectively working for AEW as a free agent prior to signing a new deal last year (as reported by PWInsider at the time). He said that if he wanted to, he could technically have shown up at WWE SummerSlam with the AEW World Championship:-
"I will say this… I'm just gonna give you like a tidbit of information from my point of view. The entire summer I was not under contract. No contract. Free agent. I was at SummerSlam weekend wrestling [El] Desperado and s*** the day of SummerSlam, f***ing suplexed him on a bunch of aluminium cans and s***, cut in half, it was f***ing dope. I could have walked into SS that night, with the AEW f***ing belt, if I had been so inclined. Nobody knew that because I don't put my s*** out there in the world and let everybody know every f***ing thing about by business, you know? I was not under contract."
Moxley revealed the reason behind opting against re-signing for AEW as soon as his previous deal expired:-
"The reason being, if you're curious, 'cause I got out of rehab and my contract was coming up. They extended it for the time that I missed, cool. I'm glad they did actually, because I didn't wanna feel like I owed them anything, you know? So, they extended it a little bit, it was coming up, they're talking to me about it. The last thing I wanted to do when I first got out of rehab, 'cause all they were telling me was basically… logic would tell you 'don't go back to wrestle, because you're just going to fall into the same habits', right? I wanted to just like, ease back into it and see what life was like on the other side, and the last thing I wanted to do was just hurry up and sign a big long-term commitment, 'cause what if s*** started going off the rails? I don't know."
After explaining how having fun working with his friends in the Blackpool Combat Club made him feel like he'd be with AEW forever, Moxley came back to the Punk situation.
Mox revealed that he was still a free agent the night Punk returned from injury in Minneapolis, Minnesota. This was still the case while they were plotting their upcoming AEW World Title unification storyline. Asserting that he "didn't have to do s***", given his contractual status, Moxley feels like if anything, he was bending over backwards to ultimately put Punk over.
He said:-
"I was not in a hurry to make any kind of grand commitments at first. That being said, during this time period, the night in, uhh… f***ing, What's His Dick's talking about, was in Indianapolis. Not Indianapolis, Minneapolis, was the night he came back and was hopping around on one foot, bumping around Inner Circle or whatever after me and Jericho wrestled. A bad*ss match, by the way. So we're talking later about stuff, now keep in mind, at this time, this is my whole point… I basically don't work there for all intents and purposes. I don't even work here. Tony is not my boss. I don't even have to be in this room. I don't have to do s***. So even me being in this room and offering and agreeing to a storyline that puts you over at the pay-per-view, if anything, I'm bending over backwards for Tony and for this dude, and for the company and everybody. I didn't have to! I didn't have to do s***. If anything, I was bending over backwards. So, that's it. That's not even controversial, I'm just telling you."
Later, when Paquette invited her husband to unload his frustrations, Moxley concluded, regrettably, that AEW is the most drama-filled pro wrestling environment he has ever been part of:-
"I will say this, and uhh, I hate to say… I don't think I've ever said anything even remotely negative about AEW, but I will say this. As an observer, it seems like, you know I spent 8 years on the Indies, a couple years in WWE developmental, spent like 8 years in WWE. I have never seen so much bulls*** drama in one place in my entire f***ing life. I hate to say that, but it's like, I don't know if it's because of the age of social media, s*** gets blown out of proportion. One person types on stupid f***ing drunk tweet and all of a sudden it's all anyone wants to talk about."
Paquette noted that it was crazy that despite how "special" AEW had become as a "wrestling oasis", there were people that wanted to "talk s*** and disrupt this thing you all have been working really hard to build." Moxley indicated, in response, that those causing problems were in the minority:-
"We're sitting up here, doing a podcast... you know what we're not talking about? We're not talking about the f***ing stellar match Vikingo and Kenny Omega just had. All the cool stuff going on in AEW, cool shows happening. We're not talking about this great pay-per-view we just had. We're not talking about it, we're talking about some bulls***. Let me be clear. The vast majority of people there don't cause any f***ing trouble, but they're getting sucked down into the s*** like everybody else. Into the muck, you know? There's plenty people who just want to get better and perform and f***ing just do this job, man. It's the best job in the world."
Punk's last wrestling match came against Moxley at All Out 2022, where the Chicagoan retained the AEW World Championship after being on the losing side of a three-minute squash in their 24 August unification bout.
A potential AEW return for Punk looks increasingly unlikely with each passing day. PWTorch's Wade Keller reported on Monday that the overwhelming majority of top AEW stars do not want him back, mentioning Moxley, Chris Jericho, The Elite, and more.
Of course, Punk remains sidelined following his post-All Out brawl with Kenny Omega and The Young Bucks, coming after his astonishing verbal attack on various key AEW figures during the event's media scrum.
Please include a H/T and link back to WhatCulture if using any of the above quotes, while also linking the original source.