Sasha Banks "Never" Wants To Work One Specific WWE Gimmick Match Again
WWE can shove this gimmick match - SmackDown Women's Champ Sasha Banks won't do it.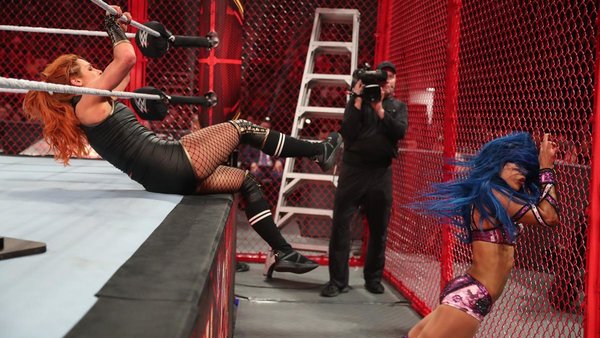 Sasha Banks has worked three Hell In A Cell matches in WWE to date, but she "never" wants to work one again.
The reigning SmackDown Women's Champ recently sat down for a tell-all interview with Steve Austin for the legend's 'Broken Skull Sessions' show on WWE Network, and winced as she and 'Stone Cold' revisited her Cell bout with Bayley - that was Sasha's third time inside HIAC.
Previously, she had headlined the 2016 pay-per-view with Charlotte Flair and worked the 2019 opener opposite Becky Lynch.
Now, Banks claims that her brawl with Bayley could be her final time inside the fearsome cage. She told Austin that working a fourth doesn't appeal to her at all. Basically, don't expect to see Sasha drop her name in the hat for Hell In A Cell 2021. Someone else might get that gig.
Banks didn't shy away from strong statements during 'Broken Skull Sessions'. It's well worth seeing, because she spoke openly about everything from depression and Ronda Rousey to NXT and backstage bullying. A lot of her comments, including those on HIAC, left Austin slightly shocked.
Create Content and Get Paid
---