WWE Legend Makes First SmackDown Appearance In 20 Years
SmackDown had one very special guest (and some Royal Rumble hype) on Friday night.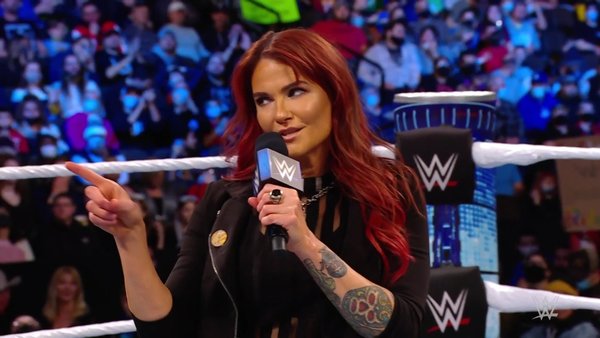 Lita made her first appearance on SmackDown for approx 20 years during Friday's broadcast.
Michael Cole made a big song and dance about the amount of time between her last showing on the blue brand and this one before introducing the legend to fans in snowy Omaha; Lita's last match on SmackDown fell on the 21 March 2003 edition.
There, she teamed with old pal Trish Stratus to beat Ivory and Jazz in a four-minute tag.
WWE didn't mention that, but they tend to gloss over history when it doesn't suit. For example, Lita bizarrely claimed that she'd never had the chance to work a Royal Rumble match during her career. That'd technically be forgiveable if she'd mentioned the height of her career, but it's an odd lie.
In fact, Lita cameo'd in the first women's Rumble ever back in 2018. She entered at #5 and eliminated both Mandy Rose and Tamina during a six-minute showing before being tossed out herself by Becky Lynch.
Lita blasted Charlotte Flair with a Twist Of Fate during Friday's segment. Anyone expecting to see her hit a moonsault would leave disappointed - that just wasn't going to happen.
Create Content and Get Paid
---