10 Best Comic Books Of 2018
1. Exit Stage Left: The Snagglepuss Chronicles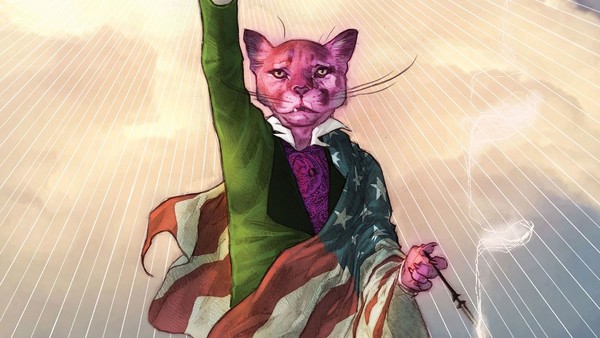 Honestly, who would've thought that, in 2018, we'd be talking about a Snagglepuss comic being one of the best comic books on shelves?
And yet, despite how obviously surreal that statement is, it feels so right to say that The Snagglepuss Chronicles was one of the finest stories of the year. What Mark Russell, Mike Feehan and Ben Caldwell have created is nothing short of extraordinary, and it all - somehow - stems from Hanna-Barbera's cartoon of a pink cougar.
Russell had previously deployed the characters of the Flintstones to great success just the other year, but Snagglepuss goes one step further by recontextualising the character during the second Red Scare, when The House Un-American Activities Commission loomed over Hollywood with a hysteric obsession regarding 'subversive' activity. The demagogic populism of Senator Joseph McCarthy was in, and countless creatives were called before HUAC as a result.
The year is 1953, Puss himself is a gay, Tennessee Williams-esque playwright, and it is from this premise that Russell tells one of the most heartfelt, intelligent and thought-provoking comics of the year, if not this decade. It is masterful, devastating, and stunning in equal measure, and it comes from the unlikeliest of characters.
Simply incredible.
-
What were your favourite comics of the year? Let us know down in the comments below!